Egg Puffs - Egg Roast in Puff Pastry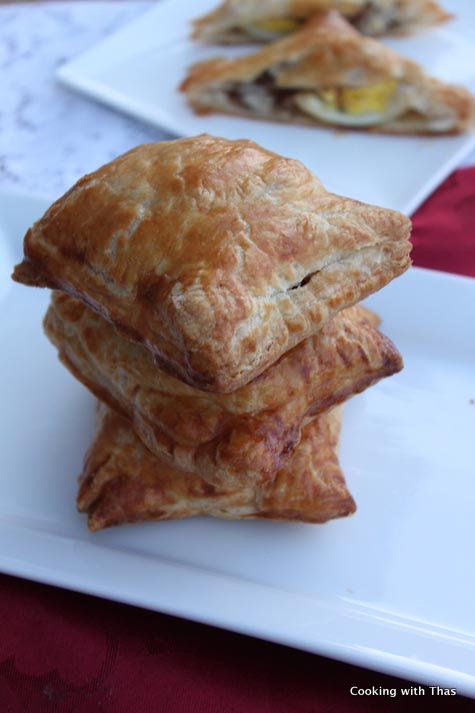 Hard Boiled eggs- 4 or depending on how many puffs you are making
Oil- 2 tablespoon
Onions, chopped- 3
Garlic, grated- 2 cloves
Ginger, grated- 1 inch slice
Green chilies, chopped- 1 or 2
Curry leaves- 1 sprig (optional)
Tomato, chopped- 1
Chili powder- 1 tsp
Coriander powder- 2 tsp
Garam masala- 1 tsp
Salt- 1½ tsp
Puff pastry sheets
Beaten egg- 1
Thaw the puff pastry sheets before you start making the egg roast.
Cook the whole eggs with shells in boiling water for 15 minutes, remove from the water, let cool down and peel off the shell. Keep aside.
Place a large pan over medium heat, add oil.
Add onions, and ½ tsp salt, saute till translucent.
Add grated garlic, ginger, green chilies and curry leaves.
You can also add ginger-garlic paste 1 tbsp.
Cook till onions turn golden in color.
Add chopped tomatoes, cook till tomatoes are mashed well. Adding tomatoes is optional.
Add chili powder, coriander powder, garam masala and 1 tsp salt.
Cook for a few minutes, till onions are slightly browned.
Add the hardboiled eggs, combine to the onion masala and cook covered for a few minutes.
Taste and add more salt if needed.
Remove the pan from the heat and let the egg roast cool down.
Using a sharp knife, cut the eggs in the roast to halves and add it back into the onion mixture.
Using a sharp knife, cut the thawed puff pastry into large squares.
Place some onion mixture and the halved egg on the puff pastry squares.
Either you can fold the same puff pastry square.
Or cover it with another puff pastry square, press the edges of the puff pastry sheet.
Using a fork, gently press the fork on the edges of the puff pastry to get a nice fork impression.
In a small bowl, beat an egg using a whisk.
Dip a pastry brush into the beaten egg and spread over the puff pastry with the egg filling in it.
Preheat the oven to 400 F or 200 C.
Place the prepared egg puffs on a baking sheet lined with parchment paper.
Keep the baking sheet on the middle rack in the oven and bake for 20 to 25 minutes or till the puff pastry has turned crispy and golden in color.
Remove the egg puffs from the oven and enjoy while it's warm.