Pepper Chicken Burger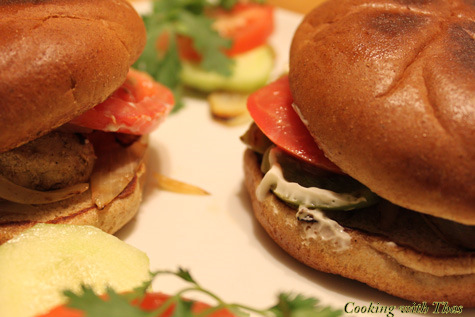 For marination
Boneless Chicken breast- 4 fillets
Ginger-garlic paste-2 tsp
Cumin powder- 1 tsp
Vinegar-2 tsp
Salt- as required
For grilling
Butter (unsalted)-2 tsp
Black Pepper powder-4 tsp
Lemon juice- 3 tbsp
To build your burger
Burger buns toasted -1
Pepper Chicken fillet-1
Tomato, sliced round- 1
Onions caramelized in butter- a few wedges
Pickled cucumber/Dill spears-1
Mayonnaise- to spread on the bun
Swiss cheese slice-1
Marinate the chicken fillet with the above ingredients and let stand for 15 minutes.
Heat a skillet and add the butter.
When the butter melts, sprinkle 2 tsp of pepper powder onto the skillet
Now place the marinated chicken fillets over the pepper powder.
Pour 3 tbsp of lemon juice over the fillets.
Sprinkle 2 tsp of pepper powder over the fillet
Cover the pan with a lid, let cook over low flame until all the water evaporates and the chicken is well done.
Once the chicken has cooked through, open the lid and let the chicken brown on both sides.
Spread the buns with mayonnaise, place the pepper chicken fillet on the bun, top with tomato, caramelized onions, pickled cucumber, cheese and close with the other bun. Enjoy.