Grilled Whole Chicken - Using Homemade Marinade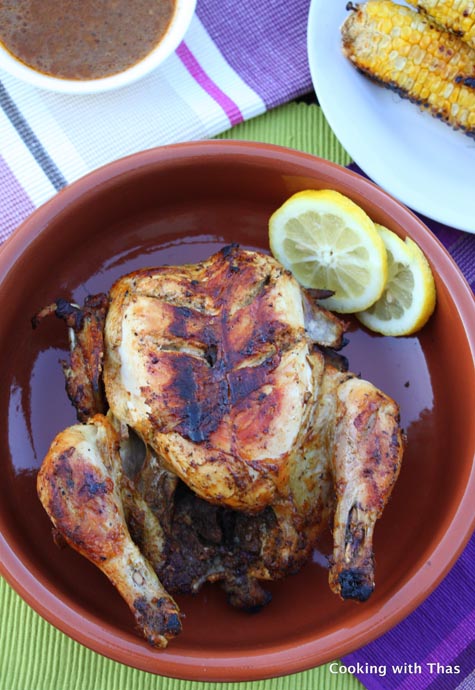 Whole Chicken- 1, medium size
Non-stick cooking spray
Lemon, sliced
Ginger, chopped- 3 inch slice
Garlic- 2 large cloves
Tomato-, chopped-1
Green pepper, chopped- ½ of a green pepper
Green chili, chopped- 2, large
Cardamom, whole- 2
Cloves, whole- 3
Mint leaves- 4 leaves
Cilantro, chopped- 1 handful
Ground black pepper- 2 tsp
Kashmiri red chili powder- 1½ tsp
Ground Cumin- 1 tsp
Fennel powder- 2 tsp
Salt- ½ tsp
Lemon juice- 2 tbsp
Water- enough to make a thick paste
Remove all the internal organs from the chicken, rinse the whole chicken under running water. To ward off any smell, you could squeeze a few tablespoons of lemon juice inside the chicken and rinse it with water.
Do not remove the skin, for grilling it's good to keep the skin.
Using a sharp knife, make a few gashes or lines over the chicken. Keep aside.
In a blender, puree the above mentioned ingredients "to make the marinade" adding enough water to make a smooth paste.
Pour the marinade over the whole chicken taken in a bowl, rub it all over and inside the chicken.
Cover the chicken with a plastic wrap and refrigerate overnight or for a few hours.
After the marination, place the whole chicken in a pressure cooker, add around ¼ cup of water and pressure cook for 10 to 15 minutes (no need to wait for the whistle). We just need the chicken to be cooked slightly, so don't over cook it.
If you don't have pressure cooker, cook it covered in a large pan.
Remove the cooker from the heat, let the pressure of the cooker subside.
Fire up the grill, spray the grill with non-stick cooking spray.
Line the grill with aluminum foil, spray the foil with non-stick cooking spray.
Open the pressure cooker, using two spatulas lift the chicken from the cooker and place it breast side down on the aluminum foil placed over the grill.
Save the marinade or gravy that's left in the cooker.
Spray the whole chicken with non-stick cooking oil spray.
Cover the grill and grill at medium high heat for sometime.
Flip the chicken over and grill, repeat flipping a couple of times. Be very gentle, use two wooden spatulas to flip it over.
When both sides have turned golden brown in color. Remove the aluminum foil and place the chicken directly over the grill.
Grill both sides for a few minutes till it turns brown in color.
Remove from the grill, squeeze lemon juice over the grilled chicken and place it on a platter.
Heat the gravy that's left in the cooker or pan (if you are cooking in a pan). Let it thicken up a bit, remove from the heat and pour the sauce into a bowl.
Carve the whole chicken, pour the sauce over the chicken pieces and serve with grilled corn, potatoes, grilled veggie skewers etc.