Easy Fish Curry - Kerala Style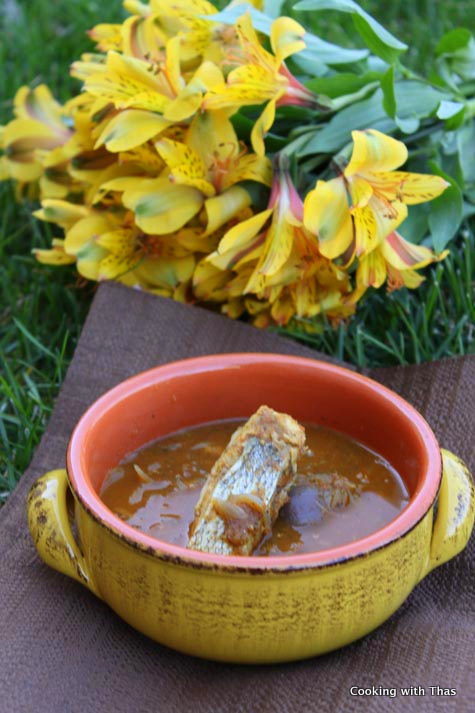 Garlic, chopped- 2 large cloves
Ginger, chopped- 2 inch slice
Green chili, halved-1
Tomato, chopped- 2
Cilantro- 1 handful
Curry leaves- 10
Kashmiri red chili powder- 1½ tsp
Ground cumin- ½ tsp
Turmeric powder- ¼ tsp
Ground black pepper- ½ tsp
Garam masala- ½ tsp
Salt- to taste
Water- ¼ cup
Fish- 6 slices (I used porgy fish, you could use tilapia or any kind)
Oil- 2 tbsp
Small onions, chopped- 12
Water- ½ cup
Tamarind, fresh- 2 inch slice soaked in 4 tbsp warm water
Salt- to taste
In a blender, puree the above mentioned ingredients "to puree into paste". Keep aside.
Soak the fresh tamarind in 4 tbsp warm water. Combine the tamarind in water, drain the juice, keep aside.
Place a saucepan or clay pot over medium heat, add oil, let it turn hot.
Add small onions and a few pinches of salt, saute till translucent.
Add the pureed paste and saute for a few minutes.
Add water to thin it down and let it come to a slight boil.
Add strained tamarind juice, combine well.
Add the fish into the sauce, cover the pan with its lid and cook for a few minutes.
Fish gets cooked pretty fast, don't over cook it as the fish will fall apart.
Taste, add salt and more ground pepper if needed.
Remove the pan from the heat, keep covered for sometime.
Serve with Kappa (tapioca), rice, chapati etc.