Shrimp Rice Paper Rolls - Refreshing Shrimp Rolls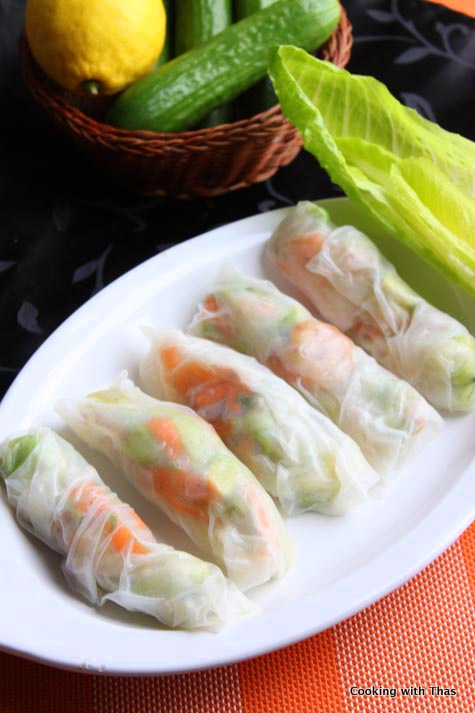 Shrimp, deveined- 10, large
Ground pepper- ¼ tsp
Soy sauce, low-sodium- 1½ tbsp
Honey- 2 tsp
Cucumber, julienned or peeled thin - 2, small salad cucumbers
Carrots, julienned or peeled thin- 1
Avocado, chopped small- 1(optional)
Cilantro, chopped- 2 handful
Lemon juice- 1 tbsp
Ground pepper- ⅛ tsp
Salt - a few pinches
In a saucepan, combine shrimp along with ground pepper, soy sauce and honey. Cook over medium heat for a few minutes till shrimp has cooked. Keep aside.
In a bowl, combine the veggies along with all the above mentioned ingredients.
Fill a bowl or pan with warm water, place the rice paper in it and soak for a few minutes till it has turned soft.
Dry the soaked rice paper with kitchen paper towel.
Place the soaked rice paper on a cutting board.
On one end of the rice paper, add a couple of tablespoons of the veggies and one cooked shrimp.
Fold and wrap the rice paper tightly. Keep aside.
Repeat with other rice papers.
Serve with Thai chili dipping sauce or any of your favorite dipping sauce.