Louisiana Seafood Creole Recipe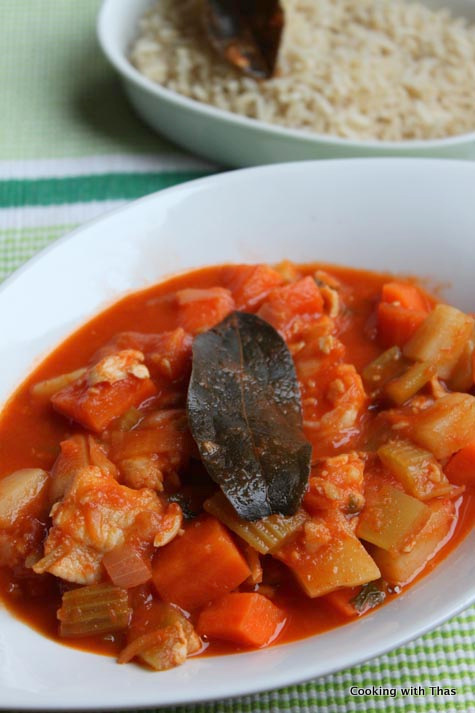 Oil- 1 tbsp
Onion, chopped- 1, large
Garlic, chopped- 3 cloves
Bay leaves- 2
Carrot, diced- 2, large
Celery, diced- 3 sticks
Potato, diced- 3, medium
Tomato sauce, low-sodium- 1 can or 400 ml
Water- ¼ cup
Shrimp, deshelled and deveined- 15
Sole fish fillet, cubed- 3 fillet (or use tilapia or other mild tasting fish)
Cayenne pepper- ½ tsp to 1 tsp
Cilantro, chopped- 2 handful
Salt- to taste
Place a pan over medium heat, add oil, let it turn hot.
Add onion, and a few pinches of salt, saute for a few minutes.
Add chopped garlic and bay leaves, cook till onions turn translucent.
Add carrots, celery and a little bit of water, cook covered till the veggies turn slightly tender (don't over cook it).
Add potato and cook covered till potatoes turn slightly tender (don't over cook it).
Add tomato sauce and water to thin it down, combine well.
Add cayenne pepper and salt, combine well and let the tomato sauce come to a slight boil.
Add shrimp and fish into the sauce, cook covered for a few minutes till the fish has cooked. It only takes 5 minutes or so, make sure not to over cook the fish as it will break apart.
Taste and add more salt if needed. If you want more spice add a few pinches of cayenne pepper.
Add cilantro, cook for a minute and remove the pan from the heat, keep it covered.
Discard the bay leaves and serve the seafood creole with brown rice or white rice.
You could make this just with shrimp.
Recipe by
Cooking with Thas - Healthy Recipes, Instant pot, Videos by Thasneen
at https://www.thasneen.com/cooking/louisiana-seafood-creole-recipe/