Easy Avocado Dip - with Fried Tortilla Chips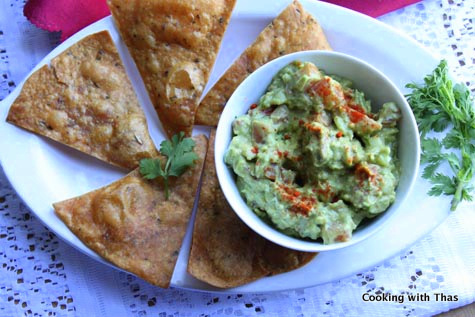 Avocado, ripe- 2
Onion, minced- ½ onion
Tomato, minced-1
Cilantro, minced- 2 tbsp
Geen chilles, chopped- 1
Lemon juice- 1 tbsp
Paprika- ¼ tsp
Salt- to taste
Tortilla- as required
Oil- enough for deep frying
In a bowl, mash the avocados and combine with all other ingredients.
Cut the tortillas into triangle shapes and deep fry it in oil till it turns golden brown in color.
I used tomato tortilla, you could use plain tortilla or other flavored tortillas.
Serve the fried tortilla chips along with avocado dip.