Mattar Paneer or Peas Paneer, Microwaved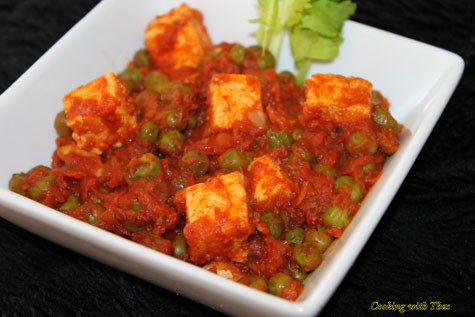 Paneer cubes- 1 cup
Frozen Peas, thawed - 1 cup
Onion, minced, medium size-1
Green chilies minced- 1 tsp
Ginger minced- ½ inch
Chili powder- ½ tsp
Cumin powder-1/2 tsp
Garam masala- ½ tsp
Tomato paste ( no salt added) or fresh Tomato puree- 5 tbsp
Cashew nuts - 8
Cilantro chopped- 1 handful
Oil- 2 tbsp
Salt- to taste
Water- 4 tbsp
Microwave proof dish with lid - for microwave cooking
In a blender, grind onion, green chilies and ginger together into a smooth paste.
In a wide non-skillet pan, heat the oil, add the paste and fry for 5 minutes until the raw smell of onion goes away.
Add the tomato paste, chili powder, cumin powder, garam masala and the peas along with 1 tbsp water and give it a stir.
Transfer this into a microwave proof dish, close it with its lid and microwave at high power for 3 minutes.
To the above Peas mixture, add little salt, paneer cubes, cashew nuts, 3 tbsp water and mix gently.
Cover the dish and again microwave for another 2 minutes and let stand for 2 to 3 minutes.
Garnish with cilantro and serve hot with Naan or Rice.
To prepare paneer, food acid (usually lemon juice, vinegar, citric acid or yogurt) is added to hot milk to separate the curd from the whey. The curd is then drained in a muslin cloth or cheesecloth and excess water is pressed out. The resulting paneer is dipped in chilled water for 2 to 3 hours to give it a good texture and appearance.
From this point, the preparation of paneer varies based on its use.
In most of the Indian cuisine, paneer wrapped in cloth is put under a heavy weight such as a stone slab, for 2 to 3 hours, and is then cut into cubes and used in curries.
Pressing for a shorter time (approximately 20 minutes), results in a softer, fluffier cheese.
Frozen Paneer is available in almost all Indian grocery stores and it can be used in all types of curries.
Adjust the spice level of this dish accordingly.
If you don't have a microwave, you could make it in the pan itself, after the peas has cooked well, add the paneer, cashew nuts, salt and cook for few minutes. Don't mash or break the paneer.
Recipe by
Cooking with Thas - Healthy Recipes, Instant pot, Videos by Thasneen
at https://www.thasneen.com/cooking/easy-matar-paneer-or-peas-paneer-microwaved/