Crispy Quinoa Cutlet Recipe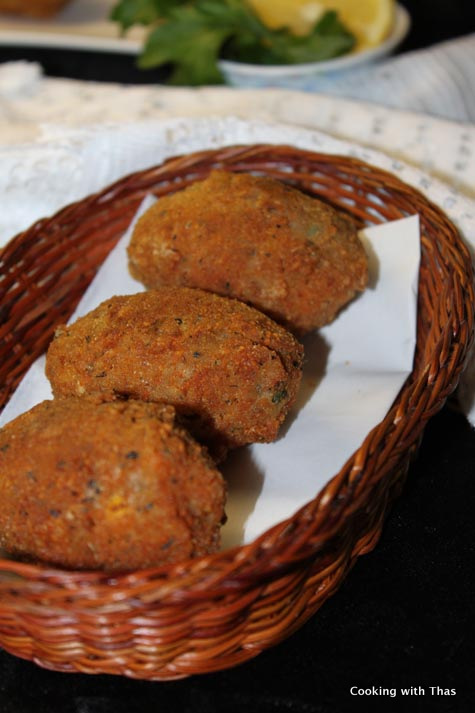 Oil- 2 tbsp
Mixed veggies, chopped small- 1 cup (carrot,peas,corn,beans)
Quinoa- 1 cup
Water- 1½ cups
Garam masala- ½ tsp
Kashmiri red chili powder or Paprika- 1 tsp
Ground pepper- ½ tsp
Egg- 1
Tomato Ketchup- 3 tbsp
Cilantro, chopped- 2 handful
Salt- to taste
Potato, cooked- 3, medium
All purpose flour- 1 cup
Water- enough to make a slightly thick batter
Salt- a couple of pinches
Breadcrumbs- 1½ cups
Parmesan cheese, grated- ½ cup
Italian seasoning- 1 /2 tsp
Cook the potatoes in boiling water or in the microwave, mash the potatoes and keep aside.
Rinse the quinoa taken in a strainer under running water.
Place a saucepan over medium heat, add oil.
Add mixed veggies, saute for a few minutes.
Add the rinsed quinoa. Season with salt.
Add water and cook covered till water has dried up and quinoa has cooked well.
Add garam masala, chili powder or paprika, ground pepper, combine well.
Make a well in the center of the quinoa mixture, crack the eggs into the well. Cook for a few seconds and then scramble the eggs, combine with the quinoa.
Add tomato ketchup, combine well.
Add cilantro, combine well.
Add the cooked and mashed potatoes into the quinoa mixture, incorporate well into the quinoa mixture.
Remove the pan from the heat, let cool down.
Make round or oval shaped balls out of the quinoa mixture, keep aside.
In a bowl, combine the flour, salt and enough water to make a slightly thick batter. Don't make it too thick. Keep aside.
In another bowl, combine breadcrumbs, parmesan cheese and Italian seasoning. Keep aside.
Heat enough oil for frying in a frying pan.
Coat the quinoa balls first in the prepared flour batter and then coat evenly with seasoned bread crumbs.
Fry in oil till it turns deep golden brown.
Transfer to a paper towel.
Serve warm along with ketchup or salad.