Pan Fried Chicken in Roasted Red Pepper Sauce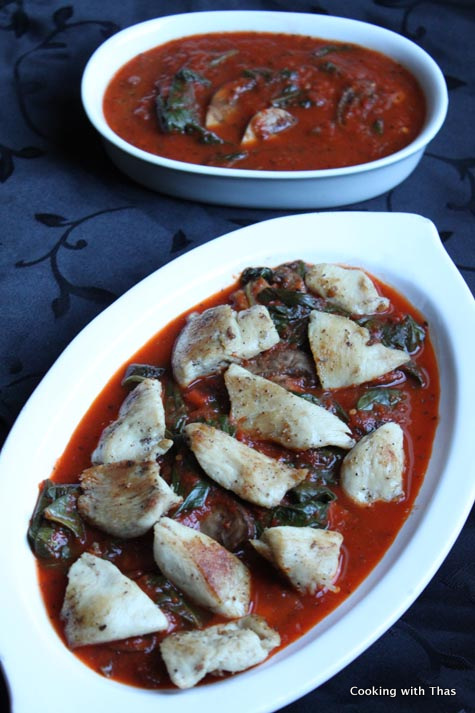 Chicken breasts- 3, cut long (or use chicken thighs)
Ground pepper- 1 tsp
Salt- to taste
Olive oil- 2 tbsp
Butter- 1 tbsp
Mushrooms, Cremini sliced or white mushrooms- 8 oz
Italian seasoning- 1½ tsp
Spinach- 2 cups
Roasted red pepper in vinegar (available in jars)- 1½ cups, drain the liquid
Red chili flakes- ½ tsp
Cut the chicken breasts into long slices.
Season with ground pepper and salt.
Place a non-stick frying pan over medium heat, add olive oil.
Place the seasoned chicken breasts and pan fry till both sides turn golden brown. Keep aside the cooked chicken.
Place a large pan over medium heat, add butter, let it melt.
Add mushrooms, season with Italian seasonings, saute mushrooms till it turns tender.
Add spinach, cook for a few minutes.
Add the drained roasted red pepper, cook for a few minutes.
Puree the mixture in a blender to a smooth paste.
Pour the pureed mixture into the pan, add red chili flakes and cook for a few minutes.
You could either add the pan fried chicken into the sauce and combine with it or pour the red pepper sauce into a wide bowl and place pan fried chicken over it.
Serve with pasta or rice or roti.
Jarred Roasted red pepper is available at Costco and some other stores.
Recipe by
Cooking with Thas - Healthy Recipes, Instant pot, Videos by Thasneen
at https://www.thasneen.com/cooking/pan-fried-chicken-in-roasted-red-pepper-sauce/