Tuna Spinach Cakes or Cutlets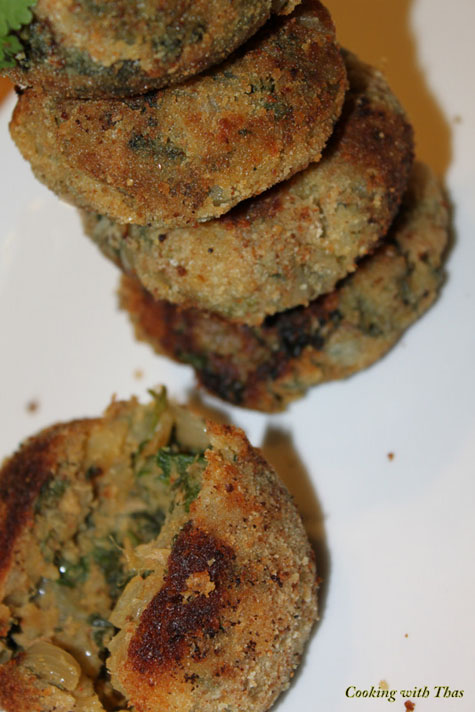 Onion, large, chopped- 3
Ginger-Garlic paste- ½ tbsp
Spinach, chopped- 2 cups (optional)
Garam masala ( cardamom-2, cloves-2, cinnamon stick- ½ inch slice- grind into powder)- 1 tsp
Chili powder- 1 tsp
Turmeric powder- ¼ tsp
Coriander powder- 2 tsp
Canned Tuna, in Water- 2 cans
Cilantro chopped- ¼ cup
Potatoes, cooked -2
Vegetable oil- 1 tbsp
Salt- to taste
Eggs, beaten- 2 (or use egg whites from 2 eggs)
Bread crumbs- 2 to 3 cups or enough to coat the tuna cutlets
Oil- for frying
Boil 2 potatoes in boiling water until the potatoes are fully cooked or cook in the microwave. Peel off the skin and keep aside.
Place a wide non-stick pan or skillet over medium heat, add 1 tbsp oil. Add onions, salt and saute until onions are translucent.
Add ginger-garlic paste and saute for a few minutes.
Add the spinach and saute for a few minutes. If you don't have spinach skip adding.
Now add the canned tuna along with garam masala, chili powder, turmeric powder and coriander powder, combine well.
Combine everything well and cook for a few minutes.
Add chopped cilantro and combine well.
Remove the pan from the heat.
Add the cooked, peeled potatoes and mash it with a wooden fork or spoon until it has combined well with the tuna mixture.
Let the mixture cool down, make medium sized balls out of these and flatten between the palm of your hands and keep aside.
Heat a frying pan, add enough oil required for frying.
Beat eggs taken in a small bowl.
Spread the bread crumbs on a plate.
Take each tuna balls, first dip it in the egg and then gently roll it into the bread crumbs, coat with the crumbs evenly.
Fry them in hot oil until golden brown without crowding. Can also be pan-fried.
Transfer to a paper towel.
Serve with ketchup or your favorite dipping sauce.