Egg biscuits in the shape of Coin or Beans - Kerala biscuit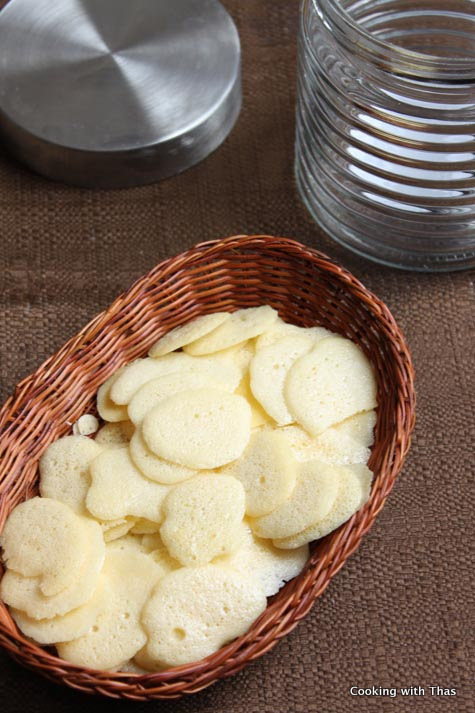 Egg, at room temperature- 2
Sugar- ⅔ cup
All purpose flour- 7 tablespoons
Baking powder- ⅛ tsp
Vanilla extract- 1 tsp
Preheat oven to 250 F or 120 C.
Combine flour and baking powder together and sift it without any tiny lumps.
In a large bowl, beat eggs, sugar and vanilla extract together using an electric hand mixer till the mixture gets smooth and double in size.
Slowly add the flour/baking powder mix, combine using a wooden spoon till smooth. Don't use electric mixer to combine the flour.
Transfer this mixture to a ziplock bag or a squeeze bottle.
Line a large baking sheet with parchment paper, grease the paper with non-stick cooking spray.
Put a small hole on one end of the ziplock bag.
Slowly squeeze the bag or bottle, place coin shaped batter onto the parchment paper.
While placing another batter drop leave enough space in between the drops. Else while baking, the drops will expand and will attach together.
Place the baking sheet on the middle rack and bake for 15 to 16 minutes till the edges turn light golden brown.
Remove from the oven, as soon the biscuits are out of the oven it will be soft. Allow them to cool on the baking sheet itself for 5 minutes, it will turn crispy.
Using a spatula remove the biscuits from the paper and serve immediately.
Store in an air-tight container.
You can make a lot of tiny biscuits using this recipe. You have to bake it in batches without crowding the biscuits.