Ghee Rice or Ney Choru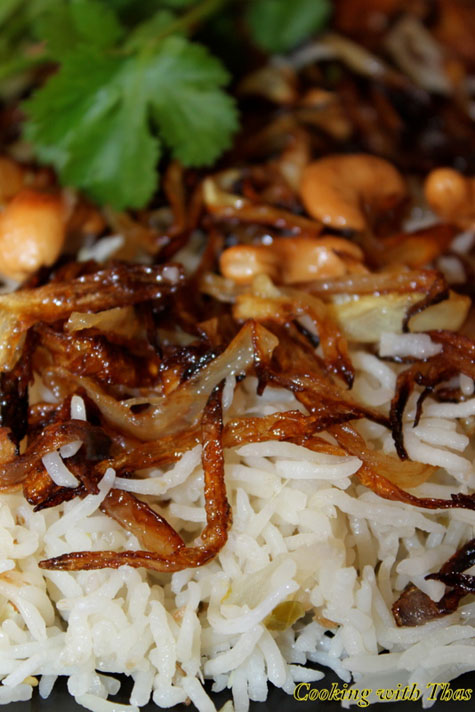 White Basmati Rice- 2 cups (or use Jeerakasala rice)
Water- 3¾ cups
Onion, sliced thin lengthwise- 1
Bay leaves, fresh or dry- 2
Ghee- 4 tbsp
Salt- 1 tsp
Ginger- 2-inch slice
Garlic- 3 cloves
Green chilies- 3
Whole cardamom- 2
Whole cloves- 2
Cinnamon- 1-inch slice
Onions, sliced thin lengthwise- 2
Oil or ghee- ½ cup
Cashew nuts- 10
Raisins- 1 tbsp
Cilantro, chopped- to garnish
In a bowl, soak the rice in water for 15 minutes.
After 15 minutes, drain the water & rinse the rice taken in a strainer till the water gets clear. Keep aside the rice.
Grind the above mentioned ingredients 'to grind' in a blender and keep aside.
Place a large saucepan over medium heat, add the ghee.
To the ghee, add the onions, salt, bay leaves; saute until the onions turn translucent.
Add the ground mixture, saute until the raw smell of the ginger/garlic goes away- about 3 minutes.
Add the rice to this and saute for 3 to 4 minutes. Don't let the rice turn brown.
Add 3¾ cups of water.
Cover the saucepan with its lid and cook for 10 to 15 minutes until all the water has dried off & the rice has turned fluffy.
Remove the pan from the heat & keep covered for a few minutes- the rice will set well.
Fry the onions in oil or ghee until golden brown, transfer to a paper towel.
Roast cashew nuts in the oil or ghee used for frying onion until golden, keep aside in a paper towel.
Roast Raisins in oil or ghee till it bubbles up, keep aside.
Garnish the cooked ghee rice with fried onions, roasted cashew nuts , roasted raisins and cilantro.
Keep covered for a few more minutes.
Serve warm with your favorite curries & enjoy.
After the rice has roasted in ghee-onion/ginger/garlic/green chilies mixture, transfer the roasted rice into a rice cooker pot.
Rinse the saucepan in which rice was roasted with 1 cup water and add this water to the rice, along with the 2½ cups water. In the rice cooker- for 2 cups rice, only 3½ cups water is required.
Cover the rice cooker pot with its lid and turn on the rice cooker, let cook.
After the rice has cooked well, fluff the rice using a fork.
Garnish with fried onions, roasted cashew nuts, raisins and cilantro, enjoy.