Refried Beans and Chicken Pasta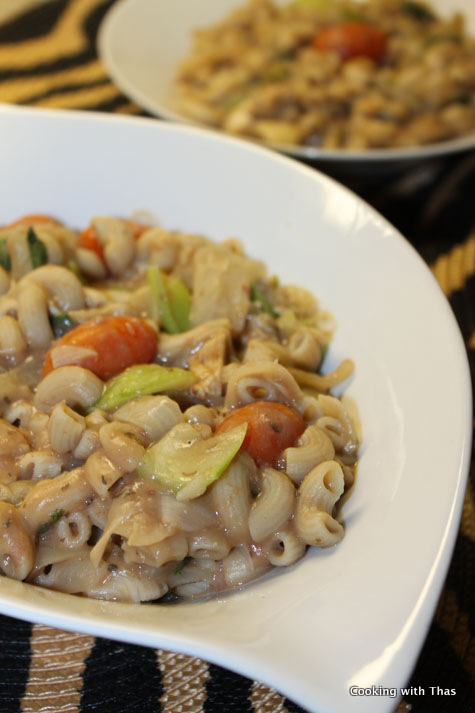 Chicken breasts, diced- 2
Ground cumin- 1 tsp
Paprika- 1 tsp
Salt- to taste
Oil - 1 tbsp
Onion, julienned - 2
Bok choy, chopped - 2 stalks ( or use spinach or other greens)
Cherry tomatoes - 10 (or 2 regular tomatoes)
Refried beans, canned - 400 ml ( refried beans I used was seasoned with green chilies, you could use any kind)
Water- ½ cup
Pasta- any kind, I used macaroni.
In a saucepan combine chicken with ground cumin, paprika and salt, cook covered till it has cooked well. Keep aside.
Cook pasta in boiling water seasoned with salt till it has turned tender. Keep aside.
Place a large pan over medium heat, add oil.
Add onion and a little salt, saute till translucent.
Add bok choy, saute for a few minutes.
Add cherry tomatoes and cook for a couple of minutes.
Add refried beans, combine well.
Add water to thin down the sauce, combine well
Let the sauce come to a boil.
Add cooked chicken, cook for a few minutes.
Finally, add cooked pasta, combine well, heat for a minute.
Serve onto a plate and enjoy!