Leek Potato Soup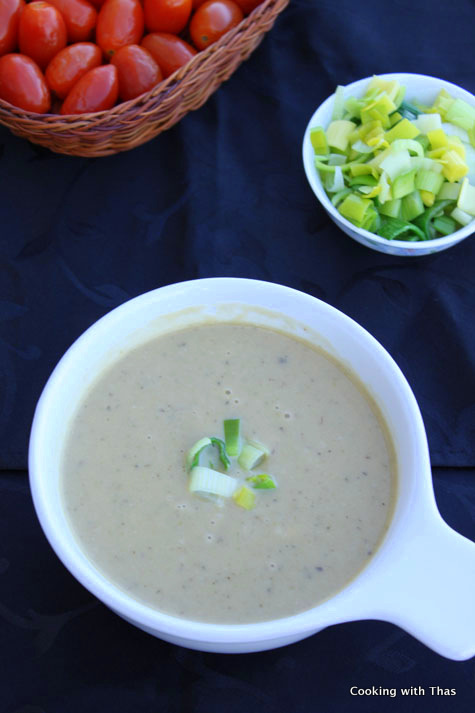 Leeks, rinsed and chopped small- 3 cups
Potato, diced- 3, large
Butter- 2 tbsp
Dried basil- 1 tsp
Dried oregano- 1 tsp
Ground black pepper- ½ tsp
Vegetable broth, low-sodium- 4 cups (or use chicken broth)
Cream- ½ cup
Salt- if needed
Wash the leeks under running water, discard the ends and chop the leeks.
Place a large soup pot or pan over medium heat.
Add butter, let it melt.
Add chopped leeks, saute for a few minutes.
Add potatoes, saute for a minute.
Add dried basil, dried oregano and ground black pepper, combine well.
Add vegetable broth and cover the pot.
Let simmer till the potatoes turn fork tender.
Puree the cooked leeks/potato in vegetable broth using a hand blender or puree it in a blender.
Return the pureed soup back to the pot, add cream and heat at low heat for a couple of minutes stirring continuously.
Taste, add more salt or ground pepper if needed.
Remove from the heat and keep the soup covered.
Serve hot in a soup bowl along with croutons or crackers.
If you prefer you could sprinkle some cheddar cheese over the soup while serving.