Dilkush - Pastry with a sweet filling in it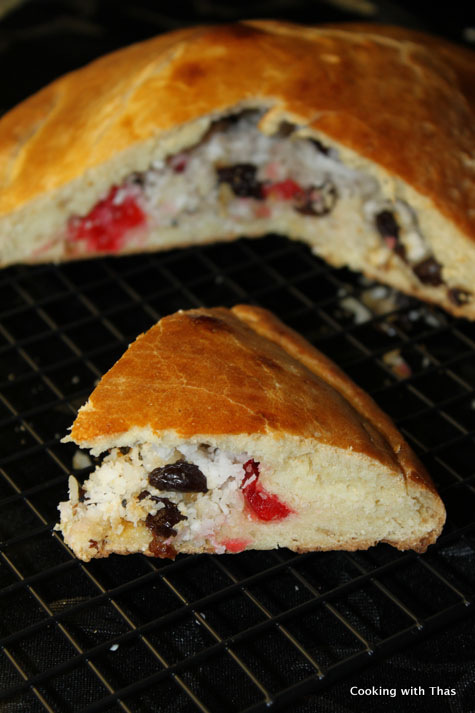 All-purpose flour or Cake/pastry flour- 2 cups
Warm milk- ½ cup
Sugar- ¼ cup
Active dry yeast- ½ tbsp
Oil- 1 tbsp
Egg- 1
Salt- ¼ tsp
Flattened rice or aval- ⅓ cup sprinkled with 2 tbsp water to make it soft
Coconut grated- ⅓ cup
Raisins- ⅓ cup
Cashew nuts, small pieces- 2 tbsp
Cherries chopped, glazed ones- 2 tbsp (optional)
Ground cardamom- ¼ tsp or smash 2 whole cardamom without skin (don't ignore this, imparts the aroma)
Sugar- 2 tbsp
Take the warm milk in a bowl, add sugar and yeast to it, let stand for 5 minutes.
In another bowl, combine flour and salt.
Add the egg, combine using a fork or spoon.
Add oil, combine well.
Add the yeast mixture and combine well using your hands. It will be a sticky dough.
Knead well for a couple of minutes. If it's sticky you can 1 to 2 tbsp more flour. Don't add more flour to make a hard dough, the dough should be soft and smooth.
Keep aside for 2 hours in a warm place for fermentation to take place.
In a bowl, combine all the above mentioned ingredients "for making the filling", keep aside.
Preheat oven to 375 F or 190 C.
After 2 hours, the dough will rise to double in size.
Make 2 equal sized balls out of it.
On a clean surface, grease with oil and roll one of the dough balls to round size: ½ inch thick.
Spread the prepared filling evenly over the dough, leave some space at the ends.
Roll the second dough ball to the same size as the first one.
Cover over the sweet filling and seal the edges tightly.
If you don't seal the edges properly it will open up while baking.
Using a pastry brush, apply the beaten egg white generously over the top of the pastry.
Let stand for 15 minutes, dough will rise some more.
Line a baking sheet with parchment paper, carefully place the prepared pastry over it and bake for 25 to 30 minutes, till the top has turned golden brown in color.
You can first bake for 20 minutes, check if it's done and again bake for a few more minutes.
Don't over bake as it would turn hard.
Remove from the oven, let cool down on a wire rack for 15 minutes.
Using a sharp knife, cut into triangular slices and serve.
This can be stored for 3 to 4 days in an air-tight container. I assure you that there will not be any leftover. It's that Yummy!