Flourless Clementine Mint Cake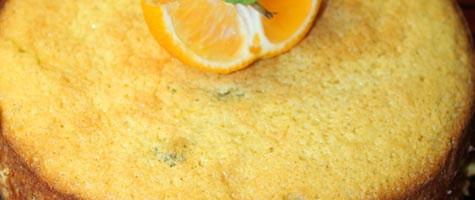 Clementine orange- 2
Eggs- 3
Ground almond or almond meal- 1⅛ cups
Powdered sugar- ½ cup
Baking powder- ½ tsp
Salt- ¼ tsp
Mint leaves- 6 (optional)
Butter, melted- to grease the pan
Double the ingredients to make a large cake, if so use 9 inch springform pan.
Preheat oven to 350 F or 176 degree Celsius.
For making this cake, use springform baking pan. I used 6x 2-3/4 inch pan as this is a small cake.
Line the bottom of the pan with a parchment paper, generously grease the pan and parchment paper with butter.
This cake is very moist so don't forget to grease the pan.
Place the whole clementines into a pot and cover it with water, bring it to a boil and simmer it for 45 minutes till the clementines turn tender.
Remove the clementines from water; peel off the skin, discard the seeds, just save the fruit.
Grind the fruit in a blender without adding water to a smooth puree, keep aside.
I didn't use the skin as it will make the cake taste bitter.
In a large bowl, beat the eggs using an electric hand mixer till very smooth.
Add the powdered sugar, and beat it.
Add the ground almonds, clementine puree, baking powder, salt and mint leaves, beat for a couple of minutes till well incorporated.
Pour the cake batter into the pan and bake for 50 minutes or till a fork inserted into the center of the cake comes out clean.
Let the cake cool in the pan.
Unmold the pan, if some parts of the cake clings to the pan gently run a knife through the sides of the pan.
Slice it and serve immediately or chill it.
If you want you could sprinkle the cake with powdered sugar before serving.
Enjoy the refreshing and light taste of this cake.
If you don't have clementines, use orange instead.
Recipe by
Cooking with Thas - Healthy Recipes, Instant pot, Videos by Thasneen
at https://www.thasneen.com/cooking/flour-less-clementine-mint-cake-gluten-free/