Spinach Lentil Chicken Soup - Healthy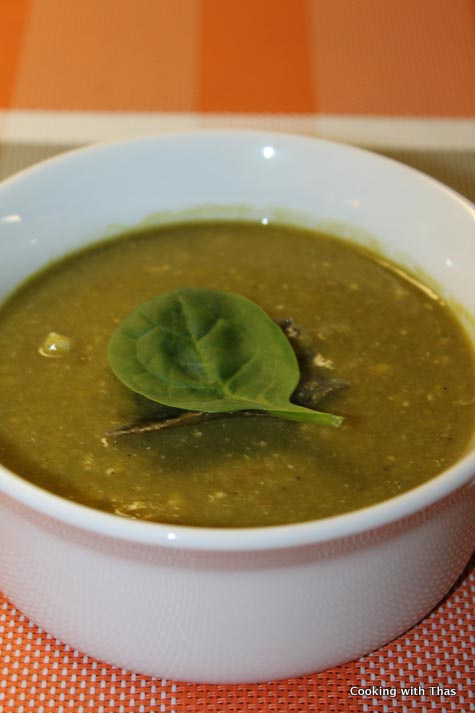 Oil- 1 tbsp
Onion, chopped- 1, large
Spinach- 5 cups, measured in a liquid measuring cup
Salt- ½ tsp
Water- ¾ cup
Red lentils- 1 cup
Water- 2 cups
Salt- ½ tsp
Chicken breasts, cubed small- 2 breasts
Tomato, chopped-1
Oil- 1 tbsp
Whole cardamom- 2
Whole cloves-1
Whole cinnamon- 2 inch
Bay leaves-2
Cumin seeds- 1 tsp
Ground pepper- ½ tsp
Salt- ½ tsp
Cook the red lentil along with water and salt. Keep aside the cooked lentil.
Place a large pan over medium heat, add oil.
Add onion and salt, cook till onion turn translucent.
Add spinach and cook till it has wilted.
Transfer the cooked spinach-onion to a blender along with ¾ cup water and puree to a smooth paste, keep aside.
In the same pan used for cooking spinach, add 1 tbsp more oil.
Add whole cardamom, cloves, cinnamon and bay leaves, saute for a few seconds.
Add cumin seeds and saute for a few seconds.
Add the cubed chicken, season with salt and ground pepper, combine well.
Cook the chicken covered till it has cooked well.
Add tomato, cook till it has mashed up.
Add the cooked lentil to the cooked chicken, combine well.
Add the spinach-onion puree, mix well.
Cook covered for 5 minutes.
If the gravy is thick, add some water to thin it down.
Remove the pan from the heat and keep covered.
Enjoy this healthy & delicious soup.