Moroccan Chicken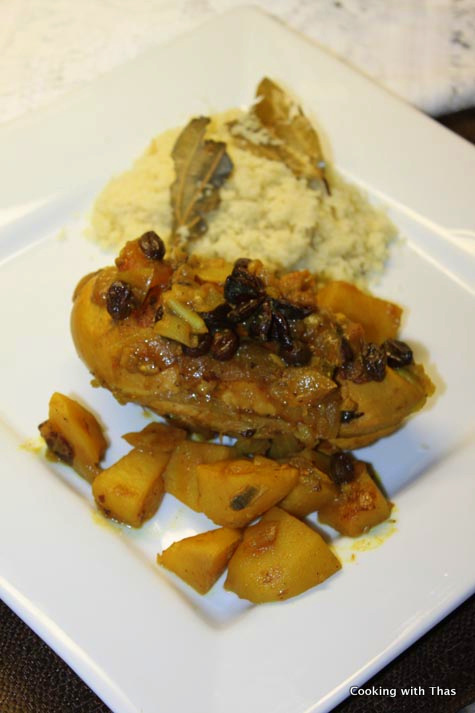 Chicken breast, bone-in- 3 breasts
Onion, chopped- 1
Garlic, chopped- 3 cloves
Ground cumin- 1 tsp
Turmeric powder- 1 tsp
Ground dried ginger- 1 tsp
Ground pepper- ½ tsp
Whole cinnamon- 2 inch stick
Star Anise- 2
Bay leaves-2
Chicken stock- 1 cup (or use chicken cube)
Tomato, chopped-1
Potatoes, diced- 3
Raisins- ½ cup
Lemon- ½ of the lemon quartered
Cilantro- 2 handful
Olive oil- 3 tbsp
Heat a tajine or large dutch oven or crock pot or non-stick cooking pot over medium-high heat, add olive oil.
Place chicken breasts over the oil, cook at high heat till both sides of chicken turn golden brown in color, about 10 minutes.
Add all the other ingredients mentioned above to the chicken, combine well.
Turn the heat to medium-low.
Cover the pot with its lid and slow cook for 30 minutes.
After 30 minutes the chicken will turn tender.
Remove the chicken from the pot and place it on a plate.
Heat the gravy to medium-high till it thickens.
Return the cooked chicken to the gravy in the pot, turn off the heat and keep it covered.
While serving- discard the lemon, bay leaves, whole cinnamon and star anise.
Serve the chicken on a plate and spread the gravy over it.
This dish goes well with couscous or rice.