Yogurt Goat Curry or Mutton Curry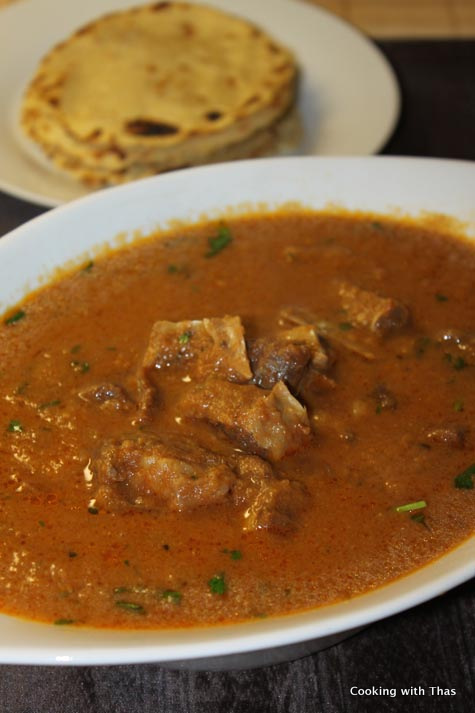 Goat, bone-in- 1 lb or ½ Kg
Ginger-Garlic paste- 1 tbsp
Kasmiri red chili powder-3/4 tbsp
Ground cumin- ½ tsp
Yogurt, not sour- ½ cup
Salt- to taste
Ghee- 1 tbsp
Onions, cut thin and long- 2, medium
Tomatoes, chopped- 2, large
Salt- a little
Oil- 2 tbsp
Bay leaves- 2
Whole Cardamom- 2
Whole cloves- 2
Whole Cinnamon- 2 inch slice
Cilantro, chopped- 2 handful
In a large bowl, marinate the goat meat with the above mentioned ingredients "for marinating goat", keep aside for 30 minutes or longer if you have time.
Place a pressure cooker over medium heat, add 1 tbsp ghee.
Add the onions, little salt and saute till onions turn golden in color.
Add the tomatoes and cook till it has mashed up.
Transfer the cooked onions and tomatoes into a blender along with little water and puree it to a smooth paste, keep aside.
In the same cooker used for cooking onions, add 2 tbsp of oil.
Add bay leaves, whole cardamom, cloves and cinnamon to the oil, saute till aromatic for a few seconds.
Add the marinated goat into the cooker.
Rinse the bowl used for marinating the goat with ½ cup water and add it to the goat in the cooker.
Close the cooker, place the whistle and cook till 4 whistles, it takes a long time to cook goat.
When the pressure subsides, open the cooker lid, add the prepared onion-tomato paste to the cooked goat.
Cover the cooker with its lid, place the whistle and cook till 2 whistles.
When the pressure subsides, open the cooker, combine the curry well.
If the gravy is too thin, cook uncovered for a few minutes till the gravy thickens.
Have a taste and add salt or chili powder if needed.
Sprinkle the curry with cilantro, cook for a minute and remove from the heat.
Keep it covered for sometime.
Serve with chapati, poori, rotis or rice.
If you don't have Kashmiri red chili powder, you could use regular chili powder: 1 to 2 tsp depending on your spice level.
Recipe by
Cooking with Thas - Healthy Recipes, Instant pot, Videos by Thasneen
at https://www.thasneen.com/cooking/yogurt-goat-curry-or-mutton-curry/