Pan Fried Vinegar King Fish with Eggplant Roast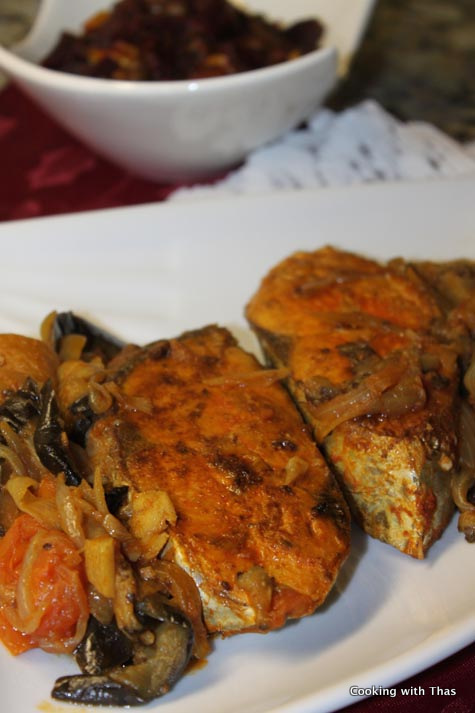 King fish- 3 steaks
Oil- 3 to 4 tbsp, for pan frying fish
Curry leaves- 1 sprig
Kashmiri red chili powder- 2½ tsp (using more if you want it to be spicy)
Turmeric powder- ¼ tsp
Garam masala- ½ tsp
Ground cumin- 1 tsp
Salt- to taste
White Vinegar- 3 tbsp, enough to make a smooth paste
Ginger,, chopped thin- 1 inch
Garlic, chopped thin- 3 cloves
Onion, cut thin long- 2, medium
Tomatoes, chopped-2
Eggplant, cut round- 1, american eggplant
Salt- if needed
White vinegar- 2 tbsp
In a small bowl, combine the ingredients mentioned above "for making marinade", make a smooth paste.
Spread the marinade on the king fish steak and marinate it for 30 minutes.
Place a large non-stick pan, add enough oil for pan frying, about 3 to 4 tbsp.
Add the curry leaves into the oil.
Place the marinated king fish on the pan and pan fry till both sides turn golden brown in color.
Add some water to the bowl in which the fish was marinated, combine the leftover marinade in the bowl with water and keep it aside.
Remove the pan fried king fish from the pan and keep aside.
To the same pan used for pan frying fish (if oil is needed, add 1 tbsp of oil) add the chopped ginger and garlic, saute till it turns golden.
Add onions and a little salt, saute till the onions turns golden brown in color.
Add the tomatoes and cook till it has mashed up.
Add the eggplants to the pan.
Add the marinade combined with water to the pan, combine well and cook covered till the eggplants have cooked well and turns into a roast like mixture.
Have a taste, add more salt or chili powder if needed.
Place the pan fried king fish into the eggplant mixture, cover the fish with the eggplant mixture.
Pour 2 tbsp of vinegar on to the fish and eggplant mixture.
Cover the pan and cook for 5 minutes.
Remove the pan from the heat, keep covered for sometime.
While serving, place the pan fried king fish on a plate and spread the eggplant mixture around the fish.
Serve with rice or roti.