Veggie and Feta Cheese Polenta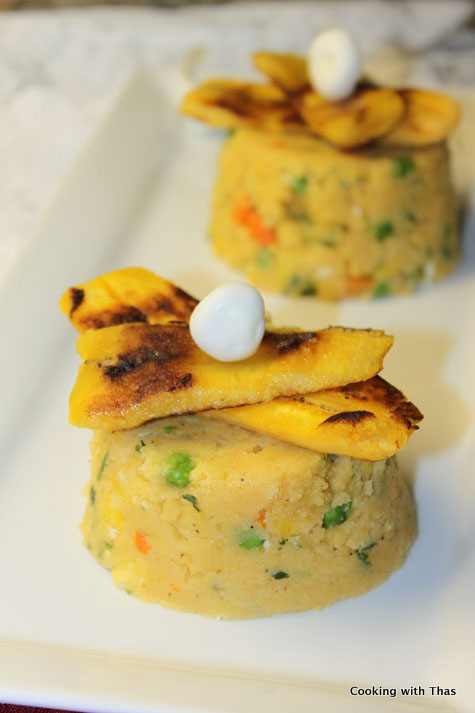 Butter, unsalted- 2 tbsp
Mixed veggies, cut small- 1 cup ( use frozen mixed veggies)
Ground pepper- ½ tsp
Kashmiri red chili powder- 1 tsp
Ground cumin- 1 tsp
Garam masala- ½ tsp
Cilantro, chopped- 2 handful
Water- 1½ cups
Cornmeal, yellow- 1 cup
Feta cheese- ½ cup
Salt- to taste
Ghee- 3 to 4 tbsp
Very Ripe Plantain, cut thin- 2
Sugar- 2 tbsp
Place a non-stick pan saucepan over medium heat, add ghee, let it melt.
Add the veggies, saute till it turns tender and golden in color.
Add ground pepper, salt, ground cumin, chili powder and garam masala, combine well.
Add water, let it come to a rolling boil.
Add the cilantro to the water.
Add the cornmeal slowly, using a whisk combine it well without any lumps.
Once the cornmeal thickens, combine it well using a wooden spatula.
Add the feta cheese and combine well.
Remove from the heat and let cool down a bit.
While serving, you could fill a ramekin or a small bowl with the polenta, even out the top and flip it over to a plate, tap the back of the ramekin or bowl so that the polenta would fall on to the plate.
If you want you could roll the polenta in a parchment papper and refrigerate it. Cut the polenta into round shapes and serve.
This can be served along with chicken curries or veggie curries.
Heat a non-stick cooking pan over medium heat.
Use very ripe plantain for making this, the riper the tastier.
Peel off the skin and cut the plantain in half horizontally, now cut each horizontal half longitudinally into thin slices.
Melt the ghee in a heated pan, place the plantain slices over it.
Fry till both the sides start to turn brown.
Sprinke sugar over it and fry for a minute.
Remove from the pan and keep aside.
You could use any kind of seasoning for making polenta: meat masala, herbs etc
You could also add parmesan or cheddar cheese.
Recipe by
Cooking with Thas - Healthy Recipes, Instant pot, Videos by Thasneen
at https://www.thasneen.com/cooking/veggie-and-feta-cheese-polenta/