Pad Kee Mao with Spaghetti - Thai dish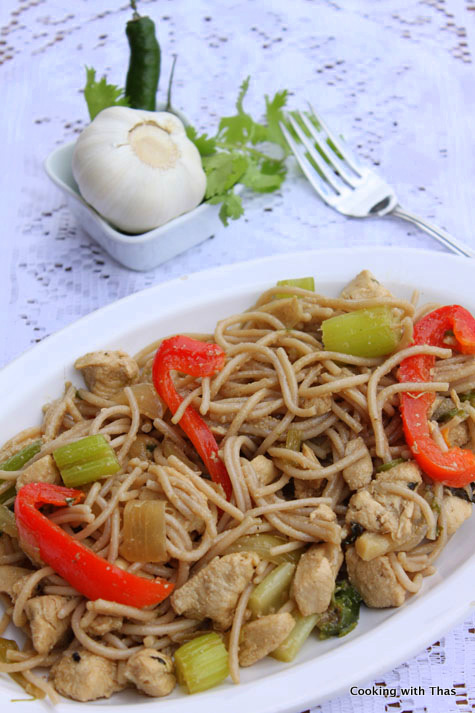 Spaghetti or rice noodles
Garlic- 3 cloves
Green chili- 3
Cilantro stems- 2 handful
Whole pepper corns- ½ tsp
Oil- 3 tbsp + 1 tbsp
Chicken, boneless cubed or cut into stripes- 2 chicken breasts or thighs
Onion, diced- 1
Celery, diced 2 inch- 3 stalks
Red pepper, cut into wedges- 1
Soy sauce- 3 tbsp
Oyster sauce- 3 tbsp
Ground pepper- ½ tsp
Basil leaves- 12 to 15
Cook the spaghetti or rice noodles in boiling water seasoned with salt. When it's tender drain the water and rinse under cold water. Drizzle a couple of tablespoons of oil over the cooked spaghetti so that it will stay separated, keep aside.
Grind the ginger/garlic/cilantro steams and whole peppercorns in a mortar and pestle or in a blender to a coarse paste, keep aside.
Place a wok or large wide pan over medium heat, add 3 tbsp oil, let it turn hot.
Add the chicken and cook till it's almost cooked.
Keep the chicken to one side of the pan.
Add 1 tbsp of oil to the other side of the pan and add the ground mixture in the oil, saute till aromatic.
Combine with the chicken.
Add the onions, celery and red peppers.
Let the veggies cook for a couple of minutes. Don't over cook the veggies, it should stay crisp.
Add the soy sauce and oyster sauce, little water combine well, let cook for a minute.
Add ground pepper, combine well.
Garnish with basil leaves, cook for a minute.
Finally, add the cooked spaghetti or noodles, combine well.
If the dish is too dry, add little water and cook for a few seconds.
Serve hot and garnish with basil leaves.