Easy Vegetable Pilaf or Pulav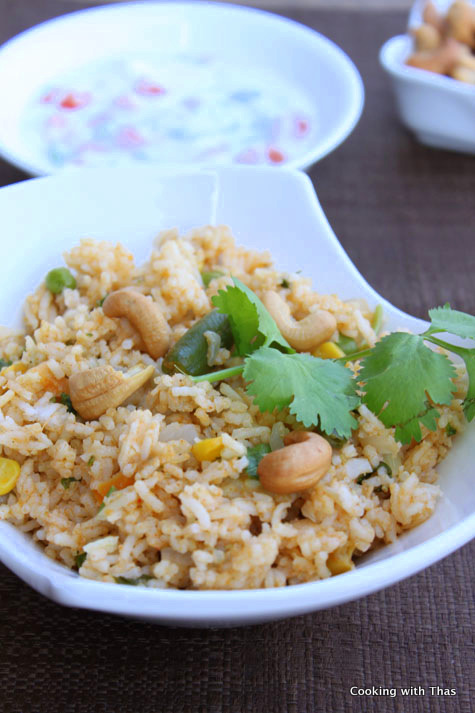 Basmati rice- 1½ cups
Ghee- 3 tbsp
Whole cardamom- 2
Whole cloves-2
Whole Cinnamon- 2 inch slice
Bay leaves-2
Mixed veggies chopped small (or use frozen) - 1½ cups (carrots, peas, corn, beans)
Onion, chopped- 1
Chili powder- 1½ tsp
Fennel powder- 2 tsp
Garam Masala- ¼ tsp
Coconut milk- ¾ th can
Cilantro, chopped- 2 handful
Salt- to taste
Whole Cashew nuts, roasted- 10, to garnish
More ghee- 1 to 2 tbsp
Cook basmati rice along with lil salt in a rice cooker. Keep aside the cooked rice.
Place a large non-stick cooking pan over medium heat, add 3 tbsp ghee.
Add whole cardamoms slightly mashed, whole cloves, cinnamon and bay leaves to ghee, saute for a few seconds till aromatic.
Add onions and lil salt, saute till onion turns translucent.
Add mixed veggies, cook for a couple of minutes.
Add chili powder, fennel powder and garam masala, combine well and saute for a minute.
Add coconut milk and cook the veggies in it. Don't over cook the veggies.
Add the cooked basmati rice, combine well and cook for a minute, the coconut milk should be fully absorbed by the rice.
Drizzle 1 to 2 tbsp of ghee over the rice.
Sprinkle with chopped cilantro and roasted cashew nuts.
Remove from the heat and keep covered for sometime.
Serve the veggie pilaf warm with yogurt raita and pickle.