Flaxseed-Walnut Crusted Tilapia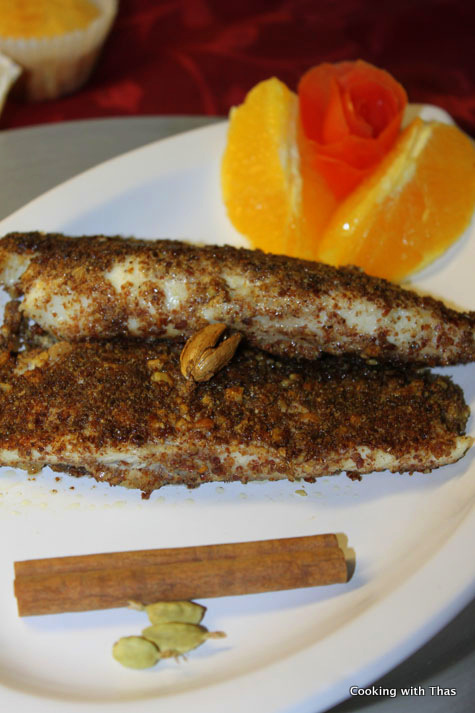 Tilapia- 3 fillet
Ground black pepper- ¼ tsp
Salt- 1 tsp
Walnut crushed- ⅓ cup
Ground flax seeds- ⅓ cup
Orange zest- zest from1 small orange
Egg white-of 2 eggs
Olive oil- 3 to 4 tbsp
Cardamom, whole- 3
Cinnamon- 3-inch slice
Crush the walnuts coarsely in a food processor.
Grind the flax seeds as well in a food processor.
Combine together crushed walnuts, ground flaxseeds, and orange zest.
Season tilapia fillets with ground pepper and salt.
Dip tilapia first in egg white.
Coat evenly with ground walnut/flaxseed mixture.
Place a large non-stick pan over medium heat, add olive oil.
Add cardamom and cinnamon to the oil, saute for a few seconds till the aroma gets infused in the oil.
Place the coated tilapia over the oil and pan fry till both sides turn light golden in color.
Transfer to a plate and serve along with salad or veggies.