Eggplant Lasagna- with Mushroom-Spinach Sauce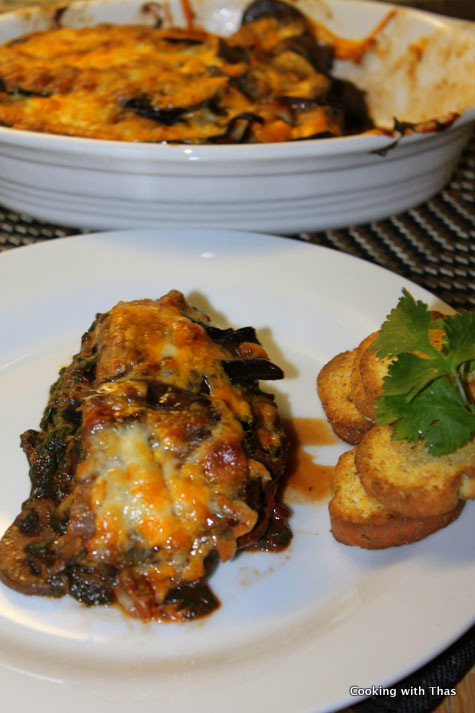 American Eggplant, medium- 3, cut lengthwise
Ground pepper- ¼ tsp/batch
Salt- to taste
Olive oil- 2 tbsp/batch
Olive oil- 1 tbsp
Mushroom, sliced- 1 pack
Spinach- 1 bunch
Dried basil- ½ tsp
Dried oregano- ½ tsp
Ground pepper- ½ tsp
Tomato paste, low-sodium- 4 tbsp (or use ¼ cup tomato sauce)
Water- ¼ cup
Salt- to taste
Cheddar cheese- generous amount
Use american eggplants, I used 3 medium ones. Cut the eggplant 1 inch thick lengthwise.
Heat a large wide non-stick pan over medium heat.
Drizzle 2 tbsp olive oil/batch, place the eggplants without crowding.
Sprinkle ¼ tsp ground pepper and lil salt over the eggplant.
Pan fry it till both sides turn light golden in color.
Remove from the pan and keep aside.
In the same pan used for pan frying eggplant, add olive oil.
Add mushroom and saute for a couple of minutes.
Add spinach and cook for a couple of minutes.
Add dried basil, dried oregano, ground pepper and salt, combine well and cook till mushrooms have turned tender.
Add tomato paste, combine well.
Add water to it, mix it up well.
Allow the sauce to cook for a few minutes and let the sauce thicken up a bit.
The sauce shouldn't be watery.
Remove the pan from the heat and let cool down a bit.
Preheat the oven to 350 F.
Grease a medium sized baking dish with non-stick cooking spray.
Place some of the pan fried eggplants as the first layer.
As second layer, spread half of the mushroom-spinach sauce over the eggplant layer.
Again, layer with pan fried eggplant and spread the sauce over it.
On the top, layer with eggplant. In total, there are 3 layers of eggplant and 2 layers of sauce.
Garnish with generous amount of cheese.
Place the baking dish in the oven on the lower rack and bake for 15 to 20 minutes.
After 20 minutes, turn on the broil to low heat and place the baking dish on top rack, broil for 30 to 45 seconds till cheese turns golden in color.
Don't broil more than a minute as the cheese would burn.
Remove from the oven and let cool down a bit.
Using a knife cut into thick slices, lift the slice using a flat spatula and serve on a plate.
This can be served along with some crispy baguettes or warm bread.
You can add any kind of veggies to make the sauce.
Add tomato sauce instead of tomato paste.
Recipe by
Cooking with Thas - Healthy Recipes, Instant pot, Videos by Thasneen
at https://www.thasneen.com/cooking/eggplant-lasagna-with-mushroom-spinach-sauce/