Healthy Butternut Squash Soup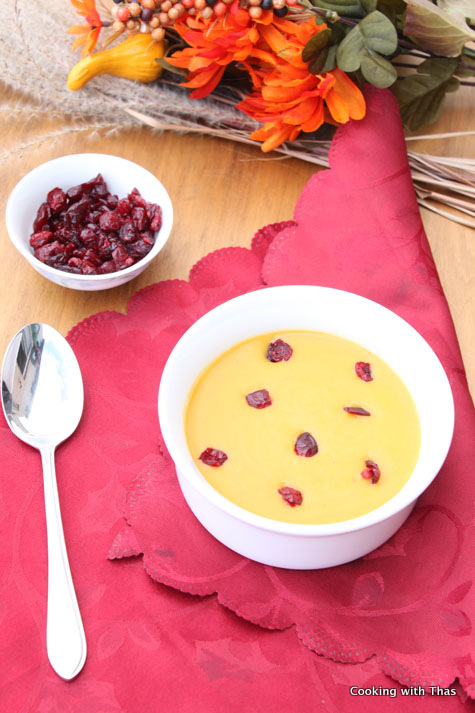 Butter- 2 tbsp (or use olive oil)
Whole Cardamom- 2
Whole cloves-2
Bay leaves-2
Onion, chopped -1, large
Butternut squash, cubed - 1, medium
Ground cumin- ½ tsp
Ground pepper- ¾ tsp (or add chili powder)
Salt- to taste
Water- 2½ cups (or use low-sodium chicken stock)
Dried cranberries- for topping
Place a large pan over medium heat, add butter, let it melt.
Add cardamom, cloves and bay leaves. Saute for a couple of minutes.
Add onions and cubed butternut squash to the pan.
Add ground cumin, ground pepper and salt, combine well.
Add the water or chicken stock, cover the pan with its lid and cook till the squash has become fork tender.
After the squash has turned tender, remove the pan from the heat and let it cool down a bit.
Discard the bay leaves.
Puree the mixture in a blender to a smooth paste.
Return the pureed squash into the pan and heat it.
If the soup is too thick, add some more water or chicken stock to thin it down.
Taste and add more salt or ground pepper if needed.
Let the soup come to a slight boil, remove from the heat.
Pour into soup bowls, top with 4 to 5 dried cranberries and serve hot.
If you prefer you can add half-half cream at the end, if so don't boil the soup after adding the cream.
Recipe by
Cooking with Thas - Healthy Recipes, Instant pot, Videos by Thasneen
at https://www.thasneen.com/cooking/healthy-butternut-squash-soup/