Chicken with Black Beans and Salsa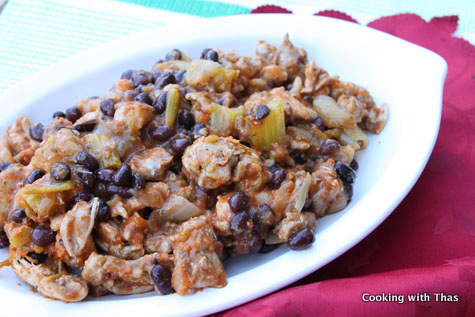 Chicken thighs or boneless breasts or bone-in pieces, cut long- 1 lb
Onion, large- 1, chopped into medium size
Celery- 3 stalks, chopped into 1 inch slices
Garlic cloves, large chopped- 4
Oregano, dried- 1 tsp
Basil, dried- 1 tsp
Ground pepper- ½ tsp
Salt- ¼ tsp
Tomatoes, chopped- 3, large
Salsa, low-sodium and medium spice- 1 cup
Black beans, canned, low-sodium- 1 large can or use chili beans, kidney beans or mixed beans
Tomato sauce- 1 cup
Ground cumin- 1 tsp
Chili powder- ¾ tsp
Place a large pan over medium heat.
Before the pan gets hot, add the chicken, onion, celery, garlic chopped along with dried oregano, dired basil, ground pepper and salt.
Cover the pan with its lid and cook till the chicken turns tender.
Once the chicken has cooked, add tomatoes and cook covered till it gets mashed.
Add salsa (or tomato sauce, ground cumin, chili powder), combine well and cook for 3 minutes.
Drain the canned black beans, rinse under water and add to the pan.
Combine well and cook covered for 5 to 10 minutes.
Have a taste and add salt or ground pepper or chili powder for spice if needed.
Remove from the heat, keep covered for sometime.
Serve along with pasta, rice or with salad.
Leftover can be refrigerated.
Instead of oregano and basil, you could add other herbs like Italian seasoning or even Indian spices like garam masala, coriander powder etc
Recipe by
Cooking with Thas - Healthy Recipes, Instant pot, Videos by Thasneen
at https://www.thasneen.com/cooking/chicken-with-black-beans-and-salsa/