Basil Shrimp in Coconut Milk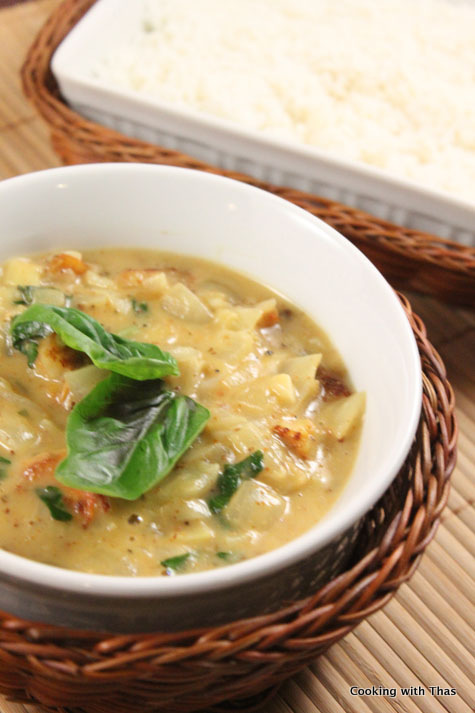 Shrimp, deveined- 15
Chili powder- ½ tsp
Turmeric powder-1/8 tsp
Ground Cumin -1/4 tsp
Coriander powder- ½ tsp
Garam masala- ½ tsp
Lemon juice- 1 tsp
Salt- to taste
Oil- 1 tbsp
Ginger, chopped small- 1 inch slice
Garlic, chopped small- 2 cloves
Green chili, chopped - 2
Onion, chopped -1
Fresh basil leaves, chopped- 4 to 5 leaves
Coconut milk- ¾ cup
Corn flour- ½ tbsp mixed with 1 tbsp cold water
Soy sauce, low sodium- 1 tsp
Salt- a few pinches
In a small bowl, marinate the shrimp with all the above mentioned ingredients 'to marinate the shrimp', keep aside for  10 minutes.
Shallow fry the shrimp in 3 tbsp of oil, keep aside.
In a saucepan, add 1 tbsp oil, add chopped ginger, garlic and green chilies, saute till the raw smell goes away.
Add the onions, little salt and cook till onions turn translucent.
Add the fried shrimp, combine well and cook for a few minutes.
Add the coconut milk, cook for a minute.
Add corn flour combined with water, mix it well and the let the gravy thicken a bit.
If the gravy is too thick, add more coconut milk or water to thin it down.
Add soy sauce, mix well.
Sprinkle the basil leaves and cook for a couple of minutes.
Taste and add more salt if needed.
Remove from the heat and keep covered for sometime.
Serve with jasmine rice or plain rice or combine with rice noodles.