Avial with Raw Mango or Mixed Veggie with Coconut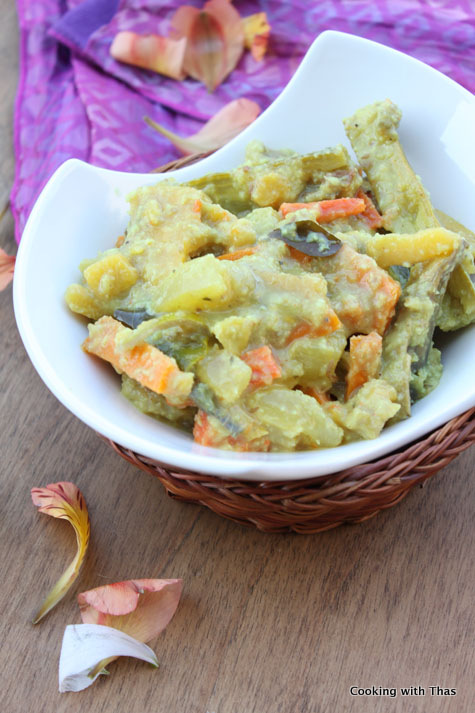 Carrot, cut into thin 3 inch wedges- 2, large
Cucumber, deseeded and cut into thin 3 inch wedges-1
Egg plant, diced- 1, small
Ash gourd, cut into thin wedges- Half of 1 ash gourd
Raw plantain, cut into thin 3 inch wedges- 1
Drumstick, 3 inch long- 10 pieces
Green chilies, halved vertically- 2
Turmeric powder- ½ tsp
Curry leaves- 1 sprig
Water- enough to cook the veggies
Raw mango, diced- ½ of the mango (or depending on the sourness of the mango)
Coconut grated- 1 cup
Cumin seeds- 1 tsp
Small onions, chopped- 6
Curry leaves- 1 sprig
In a deep saucepan or clay pan, cook all the above mentioned veggies except raw mango along with green chilies, turmeric powder and curry leaves in enough water, until the veggies just turn tender. Don't over cook the veggies.
Now, add the diced raw mango and cook for a few minutes.
Grind the above mentioned ingredients 'to grind' to a coarse mixture and keep aside.
After the veggies have turned tender but not overly cooked, add the ground mixture to this and mix well, cook for a few minutes till the raw smell of the coconut goes away.
Drizzle the coconut oil over the avial and cover the saucepan with its lid to preserve the aroma.
The raw mango I used was very sour, so half of the raw mango was enough. If the mango you are using is not that sour, you might have to add more mango or add little tamarind juice towards the end.
This dish is not too sour, it's only mildly sour, so don't end up adding too much raw mango or tamarind.
Recipe by
Cooking with Thas - Healthy Recipes, Instant pot, Videos by Thasneen
at https://www.thasneen.com/cooking/avial-with-raw-mango-or-mixed-veggie-with-coconut/