Pineapple Pulissery or Pineapple in Coconut and Yogurt Sauce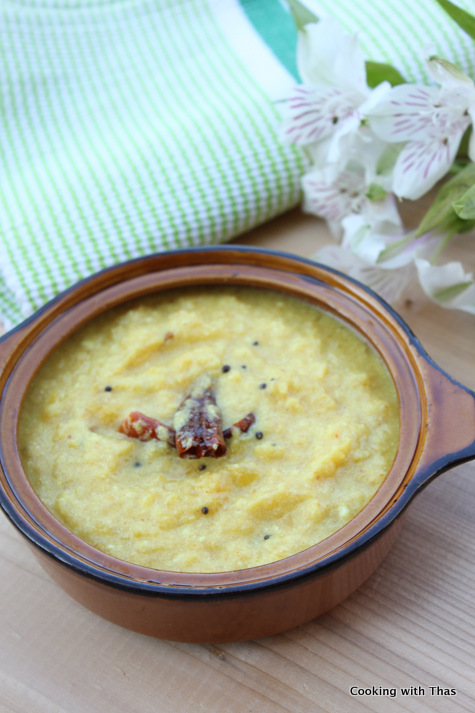 Pineapple, diced- 1 large can or use 1½ cups
Turmeric powder- ¼ tsp
Salt- 1 tsp
Water- ¾ cup
Coconut grated- ¾ cup
Green chilies chopped- 1
Cumin seeds-1/4 tsp
Mustard seeds- 1 tsp
Whole red chilies- 2
Curry leaves- 1 sprig
Coconut Oil- 1½ tbsp
In a saucepan, cook diced pineapple along with turmeric powder, salt and water until the pineapple turns soft. Remove the pan from the heat, let cool down a bit.
Grind the cooked pineapple in a blender to a smooth paste and add the ground pineapple back to the saucepan.
Grind all the above-mentioned ingredients 'to grind' in a blender to a smooth paste.
Add the ground coconut paste to the ground pineapple, cook for 5 minutes until the raw smell goes away.
Beat the yogurt well using a spoon taken in a bowl.
Lower the heat, add the beaten yogurt/curd to the pineapple-coconut mixture stirring constantly.
Mix everything gently for a minute, remove the pan from the heat. Don't boil the yogurt mixture as it will curdle.
Taste & add salt if needed.
Place a frying pan over medium heat, add coconut oil.
Let the oil turn hot, add mustard seeds & let it splutter.
Add whole red chilies and curry leaves, saute for a few seconds and remove the pan from the heat.
Add the seasoning to the pineapple pulissery.
Cover the pan with its lid and keep it covered for a few minutes.
Enjoy this as a side dish along with rice.
You can add grated beetroot, ripe mangoes, ripe plantain or diced cucumber instead of pineapple.
Recipe by
Cooking with Thas - Healthy Recipes, Instant pot, Videos by Thasneen
at https://www.thasneen.com/cooking/pineapple-pulissery-or-pineapple-in-coconut-and-yogurt-gravy-kerala-sadya-recipe/