Carrot Payasam or Carrot in Sweetened Milk - Gluten Free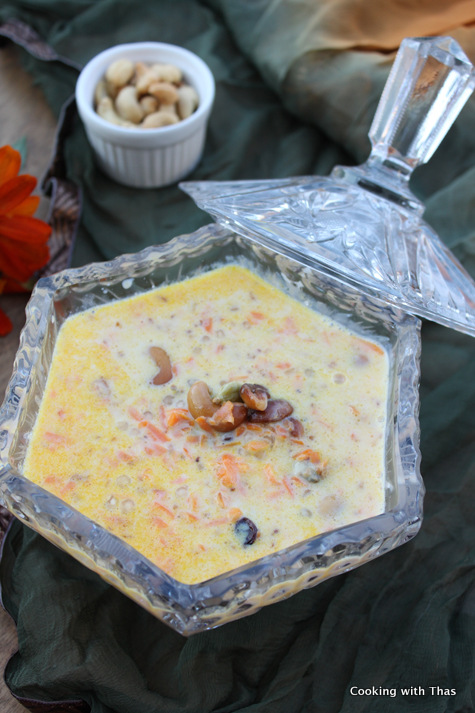 Carrot grated- 1, large carrot ( 1½ cups)
Condensed milk- 150 mL or according to your needs
Whole cardamom, crushed- 3 or use ½ tsp ground cardamom
Milk, skim or whole- 2 cups
Tapioca pearls or sabudana or sago- ½ cup soaked in water for an hour
Ghee or clarified butter- 3 tbsp to roast carrots + 2 tbsp to drizzle at the end
Water- ¼ cup
Cashew nuts, roasted in ghee- 10
Raisins, roasted in ghee- 2 tbsp
Grated coconut or small (1/2 inch) coconut pieces, roasted in ghee- 2 tbsp or a few pieces (optional)
Soak the tapioca pearls or sabudana in water taken a large bowl for an hour or so. It will plump up as it gets soaked so keep it in a large bowl. If you don't have tapioca pearls you can skip adding this.
Grate a large carrot using a grater and keep aside.
Place a large wide non-stick pan over medium heat.
Add 3 tbsp ghee, add the grated carrots into it and saute for a few minutes.
Add water and cook covered till the carrot gets tender and no longer tastes raw.
Let the water dry off.
Add condensed milk to the cooked carrots and saute for a couple of minutes.
Add crushed cardamoms or ground cardamom, combine well.
Right after you add cardamom, it starts to smell aromatic. I was taking a few deep breaths in....so so refreshing!
Add the soaked and drained tapioca pearls, combine well and cook for a few minutes.
Now, add the milk and cook covered for a few minutes till it's slightly thickened and comes to a slight boil.
Taste and add more condensed milk if you want it be more sweeter.
In the mean time, roast cashew nuts, raisins and coconut in 2 tbsp ghee one by one using the same small frying pan. Keep aside.
Open the lid and garnish the carrot payasam with the roasted cashew nuts, raisins and coconut.
Drizzle 2 tbsp ghee over it and cover the pan with its lid.
Remove from the heat and let stand for sometime.
Serve in dessert bowls after it has cooled down a bit. You could even chill this in the refrigerator, tastes much better.
Adding coconut is just optional, you can ignore that. However, adding coconut slices roasted in ghee makes this payasam even more tastier, I love the bite of the coconuts. I didn't have coconut slices so added grated coconut instead.
If you don't like tapioca pearls, you can ignore that too. Tapioca pearls will thicken up the payasam.
Recipe by
Cooking with Thas - Healthy Recipes, Instant pot, Videos by Thasneen
at https://www.thasneen.com/cooking/carrot-payasam-or-carrot-in-sweetened-milk-gluten-free/