Quinoa and Scrambled Eggs - Gluten Free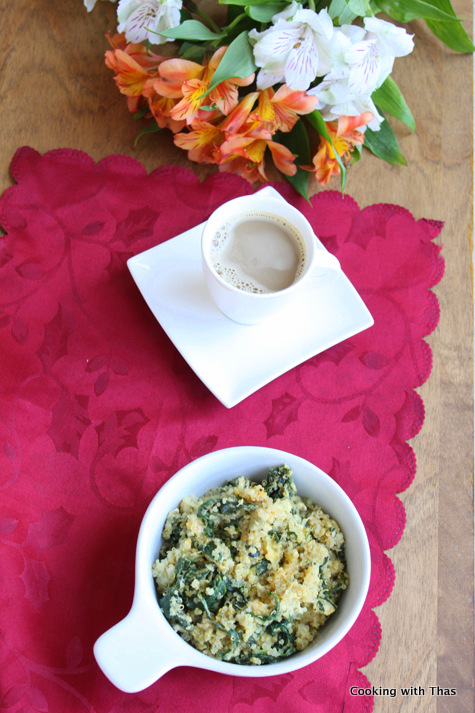 Quinoa- 1 cup
Water- 2 cups
Spinach, fresh or frozen- 1½ cups
Eggs, beaten- 3 to 4
Ground pepper- 1 tsp or more if needed
Salt- to taste
Cheddar cheese- 1 cup
Extra virgin Olive oil or olive oil- 2 tbsp
Rinse the quinoa taken in a strainer under running water.
Place a saucepan over medium heat, add quinoa and water. Season with salt.
Cook the quinoa for about 20 minutes and let all the water dry off, keep aside.
Heat a large frying pan over medium heat, add extra virgin olive oil.
Add spinach and saute in oil till it has slightly cooked.
In a bowl, beat the eggs using a whisk.
Add beaten eggs to the spinach, cook for a few seconds.
Scramble the eggs.
Sprinkle ground pepper and salt over the eggs.
Cook the scrambled eggs.
Add cooked quinoa to the scrambled eggs, combine well.
Taste and add more salt if needed.
Sprinkle cheddar cheese over it, combine well and cook for a minute till the cheese has almost melted.
Remove from heat and serve it warm along with coffee, fruits etc. Now, that's a healthy breakfast.