Chicken Fry - Kerala Style - Mom's recipe and the best recipe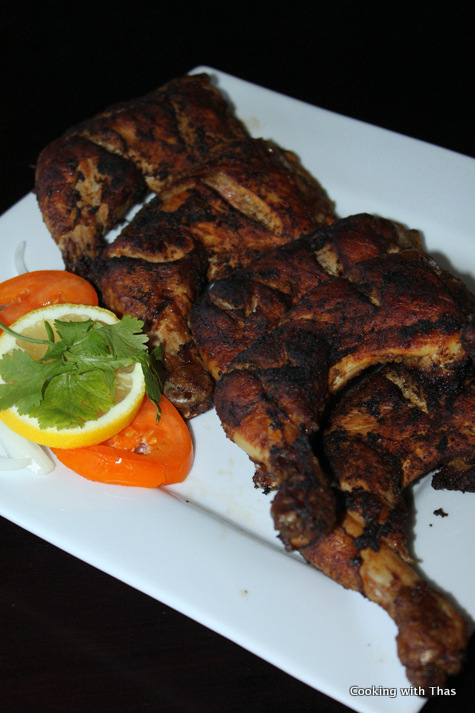 Chicken, bone-in and skin removed- 5 leg-thigh piece or use 8 to 10 chicken legs
Coconut Oil- enough for deep frying
Curry leaves- 2 sprig, to add to the oil while frying
Small onion or shallots- 6 small ones or 3 large shallots
Garlic cloves- 4, large
Ginger, chopped- 3 inch slice
Green chili- 3
Whole cardamom- 3
Whole cloves- 2
Whole cinnamon- 2 inch slice
Chili powder- 2 to 3 tsp ( if you prefer less spicy use Kashmiri red chili powder, gives an intense red color)
Turmeric powder- ¼ tsp
Fennel powder- 2½ tsp
Coriander powder- 1½ tsp
Lemon juice- 2 tbsp
Cilantro, chopped- 2 handful
Curry leaves- 1 sprig
Salt- to taste
Water- just enough to make a smooth and thick marinade
In a blender, add all the above mentioned ingredients to make the marinade with just enough water to make a smooth and thick sauce.
Don't add too much water, so begin with little water and add accordingly.
Pour the marinade into a bowl.
Bone-in chicken pieces are good for frying, especially chicken legs.
Use bone-in chicken legs or leg-thigh combined pieces or other parts and I prefer skinned pieces.
Using a sharp knife, put a couple of gashes or shallow lines over each chicken piece.
Spread the marinade over the chicken pieces evenly.
Cover the bowl with the chicken using a plastic wrap and keep the bowl in the refrigerator overnight.
Marinating overnight will ensure all the masala and flavors get into the chicken and the fried chicken will taste delicious.
If you don't have enough time you could marinate for a couple of hours or so, make sure to marinate in the refrigerator for at least sometime.
Next morning, take the chicken out of the refrigerator, keep the bowl on the counter top for 15 minutes or so.
Heat enough oil for deep frying in a frying pan.
It's very hard for me to say if the marinades the right amount of salt, if the salt added is less, the fried chicken will taste bland. Here is a trick that I do, first cut a small piece may be a hanging part out of the chicken and fry that. Taste it and adjust the amount of salt and chili powder accordingly. If needed more, sprinkle over the marinated chicken pieces and combine well before frying them.
Place the chicken pieces in the oil without crowding them. Use coconut oil for better taste and aroma.
Add the curry leaves into the oil as well, curry leaves will really enhance the taste of the fried chicken. I just love adding curry leaves but it's just optional.
Fry the chicken over medium heat till both sides have turned golden brown in color. Transfer to a kitchen paper towel and let it absorb all the excess oil.
Before frying the next batch, make sure to remove any fried particles or small fried slices that's left in the oil using a slotted spoon. Otherwise, those particles will make the next batch of chicken burn very fast.
Serve the chicken fry on a platter and garnish with sliced onions, tomatoes, cilantro and lemon wedges.
While having this chicken fry, squeeze some lemon juice over it and enjoy.
Time saver: This marinade can be made way ahead and can be refrigerated for a month. If you want to store it for a few months, freeze it. Thaw it before spreading it on the chicken.
This marinade can also be added for making the biryani masala: after cooking the onions, tomatoes, add 2 to 3 tbsp of this marinade, cook for sometime and then add chicken to it.
Recipe by
Cooking with Thas - Healthy Recipes, Instant pot, Videos by Thasneen
at https://www.thasneen.com/cooking/chicken-fry-keralastyle-moms-recipe-and-the-best-recipe/