Plantain Dates Cutlet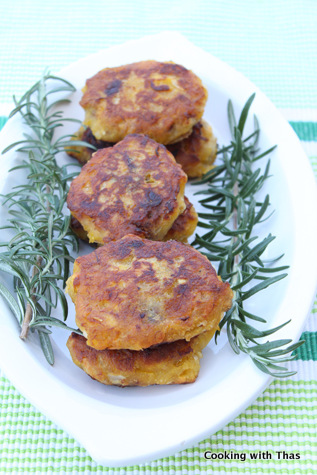 Plantain, medium ripe- 2
Dates, pitted and chopped- 10
Coconut flakes, sweetened- 2 tbsp (optional)
Almonds blanched, chopped- 2 tbsp
Rice flour- ½ to ¾ cup
Oil or Ghee- to pan fry
Use medium ripe plantains, don't use too ripe ones.
Steam cook the plantains. If you have a steamer cook in it or place the plantain in a bowl (if it doesn't fit in the bowl, you can half them). Add some water to a large saucepan, place the bowl with the plantain inside the pan, cover the pan and steam cook it.
After the plantain has steam cooked, let it cool down.
Cut the plantain vertically, remove the black seeds in it using a knife.
In a bowl, mash the plantain using a wooden spoon or your hands.
Add chopped dates, chopped almonds and coconut flakes to it, combine well.
The mixture will be mushy at this point.
Add rice flour to adjust the mushiness of the mixture. Don't make it too dry, it should be slightly mushy ( refer the picture).
Combine well and make same balls out of it.
Flatten the balls in between the palm of your hands.
Heat a non-stick pan over medium heat, add enough ghee or oil to pan fry the cutlet.
Place the flattened plantain cutlet over the oil/ghee and pan fry till both sides turn golden brown.
Transfer to a kitchen paper towel and let cool down a bit.
Enjoy with cardamom tea.