Sweet Bread or Easy Bread Pudding (Eggless)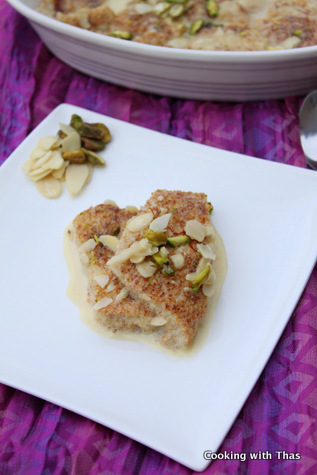 Bread slices, white or whole-wheat- 4
Ghee, for shallow frying bread- 4 tbsp/batch or use more
Milk, skim or whole- 1½ cups
Condenseed milk, sweetened (fat-free)- 150 ml or depending on your sweet level
Saffron strands- ½ tsp ( soaked in 1 tbsp warm milk)
Ghee, while cooking- 2 tbsp
Pistachios, chopped- 3 tbsp
Almonds, blanched and chopped- 3 tbsp
You could use 4 to 6 slices of bread, discard the sides of the bread and slice the bread into 4 pieces.
Heat a large non-stick pan, add 2 tbsp ghee, place the sliced bread on the ghee and pan fry till the bottom side turns golden brown.
Add 2 tbsp more of ghee and flip it over, shallow fry till golden brown.
You can add more ghee if you want.
Remove from the pan and keep aside on a plate.
Soak the saffron strands in 1 tbsp of warm milk.
Heat a saucepan, add milk to it and let come to a slight boil.
Add condensed milk to it, combine well and let milk come to a boil.
Simmer the milk for a few minutes till it thickens.
Remove from the heat and keep aside.
Place the same non-stick pan used for shallow frying bread over medium heat, arrange the shallow fried bread slices on it.
Pour the thickened milk + condensed milk over it.
Add the soaked saffron strands over it.
Drizzle the ghee over the bread slices.
Using a flat spatula, gently combine the bread with the milk.
Don't over mix the bread with the milk, it would fall apart.
You could gently stir it by swirling the pan.
Let the milk come to a boil and thicken.
Don't let the milk dry out completely.
Remove the pan from the heat.
Transfer the bread pudding to a large bowl.
Garnish with chopped pistachios and almonds.
You can serve this warm or chilled.
I prefer this to be chilled, let it cool down and refrigerate for an hour or so.
For a healthy version: use whole wheat bread, fat-free condensed milk and skim milk.
You could use butter instead of ghee.
Recipe by
Cooking with Thas - Healthy Recipes, Instant pot, Videos by Thasneen
at https://www.thasneen.com/cooking/sweet-bread-or-easy-bread-pudding-eggless/