Bonda or Fried Potato Balls - Gluten Free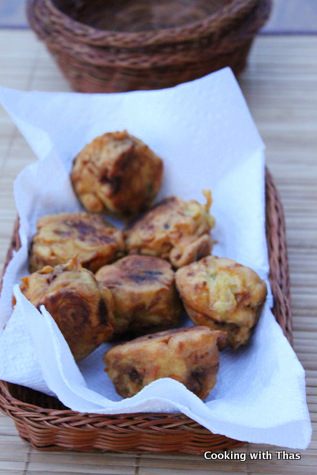 For making the potato-veggie filling
Oil- 2 tbsp
Potatoes, cubed- 5
Mixed veggies, chopped small- 1½ cups (carrot, corn, beans and peas)
Onion, chopped- 1, large
Ginger-Garlic paste- 1 tbsp
Ginger, chopped- 1 inch slice
Green chili, chopped- 2
Curry leaves- 1 sprig (optional)
Turmeric powder- ¼ tsp
Ground pepper- ¼ to ½ tsp or according to your needs
Salt- to taste
Cilantro, chopped- 2 handful
Gram flour or chick pea flour or besan- 1½ cups or depending on how many you are making
Water- enough to make a thick batter
Salt- a few pinches
Chili powder (optional)- ½ tsp
Oil- for deep frying
Place a large pan or wok over medium heat, add oil.
Add chopped onions and little salt, saute till translucent.
Add ginger-garlic paste and chopped ginger, saute for a minute.
Add chopped chilies and curry leaves, saute for a couple of minutes.
Add cubed potatoes and pour some water to it, cook covered till potatoes are cooked.
Add the mixed veggies and cook for a few minutes.
Add turmeric powder, ground pepper and salt to it, combine well.
Using a wooden spatula, slightly mash the potatoes.
Taste and add more salt if needed.
Sprinkle cilantro over it, combine well and cook for a minute.
Remove from the heat and allow it to cool down.
Make small balls out of the potato-veggie filling.
Make sure the filling is dry.
In a bowl, combine gram flour, salt, chili powder if using along with enough water to make a thick batter.
Batter should be of thick constituency, it should hold on to the potato-veggie mix.
Heat a frying pan, add oil for deep frying, let oil turn hot.
Dip the potato-veggie balls in the batter and coat it evenly.
Place it in the oil and fry till it turns golden brown in color.
Using a slotted spoon, remove the bonda from the oil and place it on a kitchen paper towel.
Serve warm with ketchup if you prefer.