Cauliflower Stuffed Squid (Calamari) Masala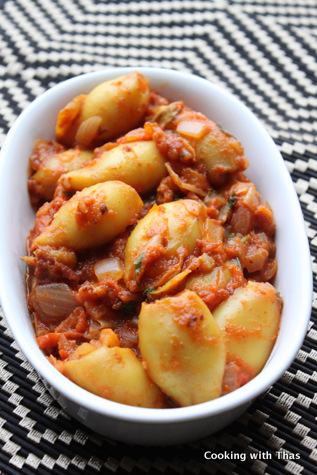 Squid, medium size (head/tentacles removed from the body tube)- 15
Chili powder- ¾ tsp
Turmeric powder- ¼ tsp
Garam masala- 1 tsp
Salt- to taste
Cauliflower florets- about a quarter of a small cauliflower, chop the florets into small (we don't need much for stuffing, so quarter a small cauliflower and cook it)
Fennel powder- 1½ tsp
Garam masala- ½ tsp
Salt- little
Oil- 2 tbsp
Onion, chopped small- 1, large
Ginger-Garlic paste- 1 tbsp
Tomatoes, chopped- 3, small
Tomato paste- 3 tbsp
Soy sauce, low sodium- 1 tbsp
Chili powder- ½ tsp (don't add too much as we've already added chili powder to cook squid)
Coriander powder- 1½ tsp
Cilantro, chopped- 2 handful
I used already cleaned squid, head and body removed, use both the body tube and the tentacles while cooking.
In a bowl, combine squid along with other ingredients mentioned above "for cooking squid" for 10 minutes.
Place the marinated squid in a large pan, add enough water and cook covered till it's cooked well and all the water has dried off.
Transfer the cooked squid to a bowl and let cool down.
The squid will shrink once it's cooked so we only need a very little cauliflower to stuff it.
Quarter a small whole cauliflower, chop the florets into small.
In a saucepan, cook the chopped cauliflower along with fennel powder, garam masala, salt along with some water.
When it's cooked, using a wooden spoon mash it well so that the florets become very small.
Let the cooked cauliflower cool down a bit.
Stuff the cooked cauliflower inside the cooked squid. If the squid has shrunk, insert your index finger and gently enlarge it.
Keep the stuffed squid aside.
Heat a non-stick cooking pan over medium heat, add oil.
Add onions and cook covered till it turns translucent.
Add ginger-garlic paste, saute for a minute.
Add tomatoes and cook till mashed up.
Add tomato paste, saute for a minute.
Add soy sauce and cook for a minute.
Add coriander powder and chili powder, combine well and cook for sometime.
Add some water to thin down the gravy.
Add the stuffed squid and any cooked tentacles/head to the gravy.
Gently, combine with the gravy and cook till the gravy thickens.
Taste and add more salt if needed.
Garnish with chopped cilantro and cook for a minute.
Remove from the heat and keep it covered for sometime.
Serve as a side dish with rice, roti, chapati, poori etc.
•You could stuff the squid with any of your favorite stuffings.
•Adjust the amount of chili powder accordingly.
Recipe by
Cooking with Thas - Healthy Recipes, Instant pot, Videos by Thasneen
at https://www.thasneen.com/cooking/cauliflower-stuffed-squid-calamari-masala/