Grilled Cheese and Potato Sandwich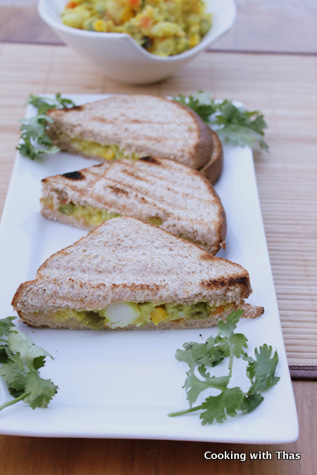 Olive oil- 2 tbsp
Potatoes, cubed- 5
Mixed veggies, chopped small- 1½ cups (carrot, corn, beans and peas)
Onion, chopped- 1, large
Ginger-Garlic paste- 1 tbsp
Ginger, chopped- 1 inch slice
Green chili, chopped- 2
Curry leaves- 1 sprig (optional)
Turmeric powder- ¼ tsp
Ground pepper- ¼ to ½ tsp or according to your needs
Salt- to taste
Cilantro, chopped- 2 handful
Whole wheat bread slices
Cheddar cheese- as required
Place a large pan or wok over medium heat, add olive oil.
Add chopped onions and little salt, saute till translucent.
Add ginger-garlic paste and chopped ginger, saute for a minute.
Add chopped chilies and curry leaves, saute for a couple of minutes.
Add cubed potatoes and pour some water to it, cook covered till potatoes are cooked.
Add the mixed veggies and cook for a few minutes.
Add turmeric powder, ground pepper and salt to it, combine well.
Using a wooden spatula, slightly mash the potatoes.
Taste and add more salt if needed.
Sprinkle cilantro over it, combine well and cook for a minute.
Remove from the heat and allow it to cool down.
Spread the potato filling over the bread.
Sprinkle cheddar cheese over it and close with another bread.
If you want you could spread little butter on the bread.
Have the grill ready, grease the grill with non-stick cooking oil.
Grill should be in low heat.
Place the bread on the grill and let light golden brown grill marks form on the bottom side.
Flip it over and let grill marks form on the other side too.
Remove from the grill.
If you want you could cut the sandwich into halves and serve.
Leftovers can be wrapped in a plastic wrap and can be served for next day breakfast or lunch. Microwave it and enjoy.
•If you don't have grill, brown the bread on stove top.
•If you are serving for kids, discard the green chilies from the cooked filling so that they won't bite on it.
•The filling can be made into patties and grilled or pan fried.
Recipe by
Cooking with Thas - Healthy Recipes, Instant pot, Videos by Thasneen
at https://www.thasneen.com/cooking/grilled-cheese-potato-sandwich/