Okra Korma or Okra in Coconut Milk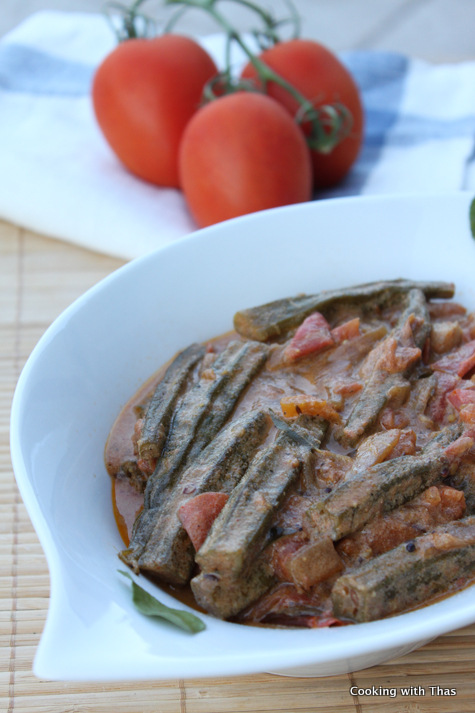 Oil- 2 tbsp
Mustard seeds- 1 tsp
Cumin seeds- 1 tsp
Whole Red dry chilies- 2
Onion- 1, chopped
Salt- to taste
Curry leaves- 1 sprig
Okra, whole or chopped- 15
Tomatoes- 3, chopped
Gram masala- ½ tsp
Kashmiri red chili powder- 2 tsp
Coriander powder- 1½ tsp
Ground pepper- ¼ tsp
Coconut milk- ½ cup thick coconut milk combined with ½ cup water
Place a large pan over medium heat, add oil and let it turn hot.
Add mustard seeds, let it splutter.
Add cumin seeds and dry red chili halved, saute for a second.
Add onions, little salt and curry leaves, saute till onions turn translucent and light golden in color.
Add whole okra (just snap off the top part and the end part) and stir fry by adding water little by little so that it won't stick to the bottom of the pan.
Stir fry till okra has almost done and no longer slimy, don't over cook it nor mash it.
Add tomatoes and cook covered till tomatoes are mashed up.
Add garam masala, kashmiri red chili powder, coriander powder, ground pepper and salt to it, combine well without breaking the okra, cook for a few minutes.
If using thick coconut milk combine it with water and add to the pan or just add thin coconut milk.
Combine okra with the coconut milk and let come to a slight boil.
Taste and adjust salt and chili powder accordingly.
Remove from the heat and keep the pan covered for sometime.
Serve with chapati, roti, rice etc.
If you don't have kashmiri red chili powder, add regular red chili powder (1 tsp) according to your spice level.
Recipe by
Cooking with Thas - Healthy Recipes, Instant pot, Videos by Thasneen
at https://www.thasneen.com/cooking/okra-korma-or-okra-in-coconut-milk/