Eggplant Roast with Sesame Seeds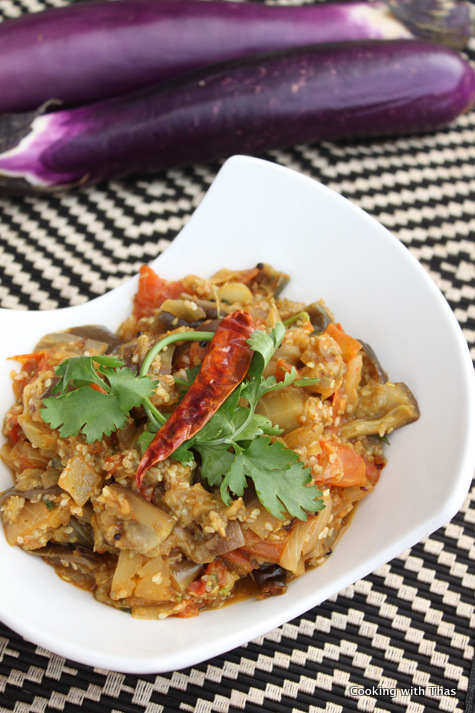 Oil- 3 tbsp
Mustard seeds- 2 tsp
Cumin seeds- 1 tsp
Red dry whole chili- 2
Onion, chopped- 1 large
Salt- to taste
Tomatoes, chopped- 2
Eggplant diced, Japanese variety- 3 (use any variety)
Chili powder- ¾ tsp
Ground Cumin - 1 tsp
Fennel powder- 1 tsp
Turmeric powder- ⅛ tsp
Cilantro, chopped- 2 handful
Roasted sesame seeds- 3 tbsp
Heat a large non-stick pan, add oil and let it turn hot.
Add mustard seeds and let it splutter.
Add cumin seeds and dry red chili, saute for a second.
Add chopped onions and little salt, cook till it turns slightly translucent.
Add tomatoes and cook covered till it's mashed up.
Now, add diced eggplants and combine well.
Cook covered till eggplants turn tender. If it's sticking to the bottom of the pan, add some water and cook.
Add chili powder, ground cumin, turmeric powder and fennel powder to the cooked eggplant, combine well.
Taste and add more salt and chili powder according to your needs.
Let cook for some more time. There shouldn't be any water left in the dish, should be like a roast.
Add chopped cilantro and combine well, cook for a few seconds.
Roast 3 tbsp of sesame seeds in a small pan till it turns golden in color.
Add the roasted sesame seeds over the eggplant, combine well and let cook for a minute.
Remove from the heat and keep it covered for sometime.
Serve as a side dish with rice, roti, chapati etc.