Tomato Shrimp - Tasty Appetizer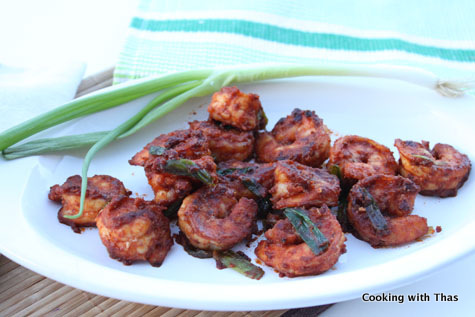 Shrimp, jumbo- 15
Paprika- 2 tsp
Garam masala- 1 tsp
Ground pepper- ¼ tsp
Salt- ½ tsp
Olive oil- 3 tbsp
Green onions- 2 stalks, cut long
Water- 2 tbsp
Tomato Sauce- 3 tbsp
lemon juice- 2 tsp
Salt- ¼ tsp
Marinate the shrimp with paprika, garam masala, ground pepper and salt for 15 minutes.
Heat a non-stick pan, add olive oil.
Spread the shrimp over the oil and fry till light brown in color.
Add green onions, saute for a couple of minutes.
Add water and cook for a minute.
Add tomato sauce, cook till the sauce thickens and has coated well on the shrimp.
Drizzle the lemon juice, saute for a minute and dish it out.
If you want you could insert toothpick on each shrimp while serving.
•Adjust the spice level according to your needs
Recipe by
Cooking with Thas - Healthy Recipes, Instant pot, Videos by Thasneen
at https://www.thasneen.com/cooking/tomato-shrimp-tasty-appetizer/