Dates Pancake - Eggless and Healthy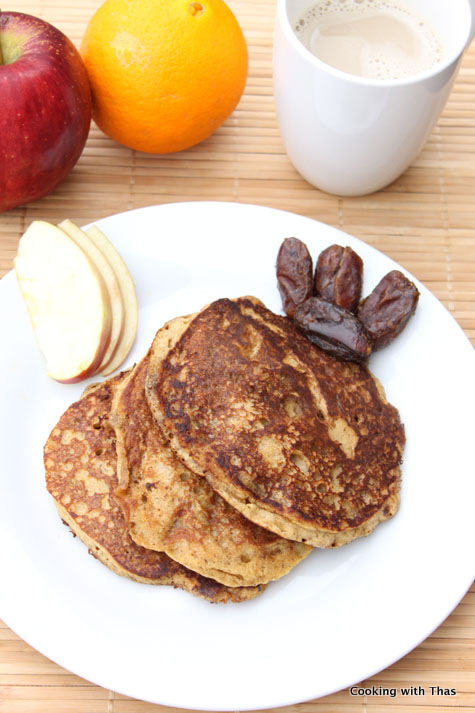 All purpose flour or gluten free flour- 1 cup
Dates, pitted (regular or honey dates)- 15
Baking powder- 1½ tsp
Milk, skim- ½ cup or enough to make a thick batter
Vanilla extract- 1 tsp
Butter or cooking spray- to grease the pan
Honey or Maple syrup
Combine all purpose flour or gluten free flour with baking powder.
In a blender, grind the flour/baking powder mix, dates and milk to a thick batter constituency.
Pour the pancake batter into a bowl, add the vanilla extract and combine well.
Place a non-stick pan over medium heat, add ½ tbsp butter or spray with non-stick cooking spray.
Pour a large spoonful of pancake batter on the pan.
Let the bottom side turn golden brown in color.
Flip it over and cook the other side as well.
Don't keep the heat to high as the pancake will burn very fast, so adjust the heat accordingly.
Transfer to a plate and drizzle honey or maple syrup over it, serve warm.
Refrigerate any leftovers as this makes a great evening snack as well.
This pancake even without adding egg and sugar tastes very rich and delicious, dates will impart the sweetness and the richness.
Recipe by
Cooking with Thas - Healthy Instant Pot Recipes
at https://thasneen.com/cooking/dates-pancake-eggless-and-healthy/