Chicken Kofta in Homemade Sauce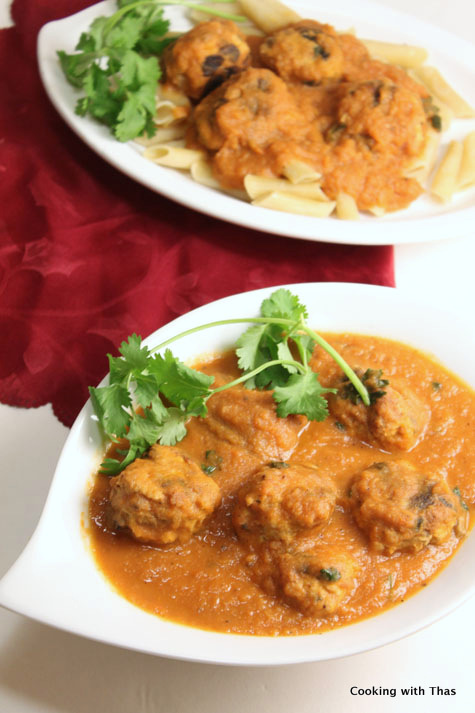 Ground chicken- 1 lb (or grind 3 chicken breasts)
Chili powder- 1 tsp
Ground Cumin- 1 tsp
Coriander powder- 1 tsp
Fennel powder- 1 tsp (optional)
Salt- 1 tsp
Ground black pepper- ¼ tsp
Cilantro, chopped- ¼ cup
Mint leaves, chopped- 5 to 6 leaves
Mushrooms, cooked- 1 cup (optional)
Oil, used for frying chicken balls- 3 tbsp
Whole cloves- 3
Whole cardamom- 3
Cinnamon- 2-inch slice
Dried bay leaves- 2
Onions, chopped- 2 large
Tomatoes, chopped- 3, large
Ginger-Garlic paste- ½ tbsp
Coriander powder- 1 tsp
Garam masala- ¾ tsp
Tomato ketchup- 3 tbsp
Ground black pepper- ¼ tsp
Cream or whole milk- ¼ cup
Cilantro, chopped- ¼ cup
Salt- 1 tsp
In a large bowl, combine the ingredients for making chicken balls.
I also added cooked mushrooms to the ground chicken mixture, this is just optional.
If you don't have ground chicken, you could grind boneless chicken breast in a food processor.
Make medium sized balls out of the ground chicken mixture.
Heat a large non-stick skillet, add ½ cup oil, shallow fry the chicken balls in batches. Flip the chicken balls over and fry till it has turned golden brown.
Transfer to a paper towel and keep aside.
Heat another wide pan, add 3 tbsp of oil used for frying chicken balls.
Add cloves, cardamon, cinnamon and bay leaf, saute for a couple of seconds.
Add onions, ½ tsp sa,lt and cook covered till onions turn translucent.
Add ginger-garlic paste and cook for a few minutes.
Add tomatoes and cook covered till tomatoes have mashed up.
Add coriander powder, garam masala & ½ tsp salt, combine well and cook for a minute.
Discard the bay leaf from the onion-tomato mixture.
Puree the mixture in a blender to a smooth constituency along with some water.
Return the sauce to the pan, combine well.
Add tomato ketchup, combine well and cook for 2 minutes.
If the sauce is too thick, add some water to thin it down.
Add the prepared chicken balls to the sauce and cook covered for 5 minutes.
Add ground black pepper, combine well.
Add cream or whole milk.
Taste and add more salt or ground pepper according to your needs.
Garnish with chopped cilantro.
Transfer to a bowl and serve with naan, roti, or rice. Or serve this over pasta.
Use ground beef or lamb instead of chicken.
The fried chicken balls by itself tastes very delicious.
For making vegetarian version: mash the cooked potatoes along with cooked mixed veggies and paneer, add spices and make small balls out of the veggie mixture. Shallow fry it in oil, make the sauce and add the veggie balls in the sauce.
Recipe by
Cooking with Thas - Healthy Recipes, Instant pot, Videos by Thasneen
at https://www.thasneen.com/cooking/chicken-kofta-in-homemade-sauce/