Baked Asian Style Salmon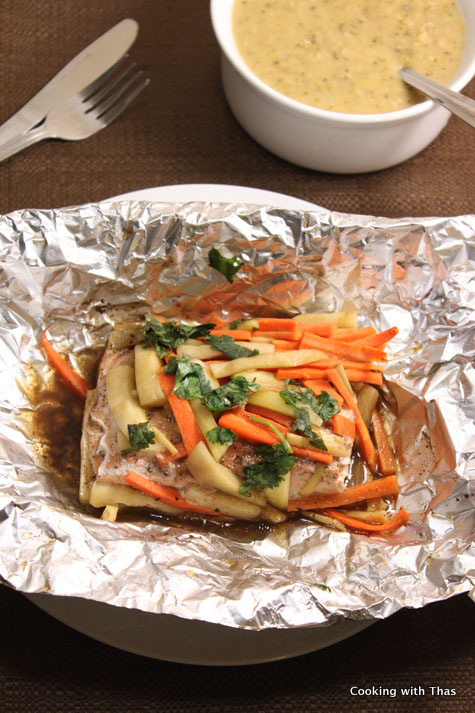 Salmon- 3 thick fillet
Ground pepper- to season each fillet
Salt- to season each fillet
Carrots, cut like a matchstick- 1
Zucchini, cut as thin wedges-1
Ginger, cut like as thin wedges- 2 inch slice
Lemon zest- of half lemon
Lemon grass, cut rounds- 1 stalk
Lemon juice- 1 tbsp
Cilantro, chopped- 2 handful
Green onions, chopped- 1 stalk (optional)
Soy sauce- 3 tbsp
Fish sauce (optional)- 1 tsp
Preheat oven to 375 F.
Sprinkle salmon fillet with ground pepper and salt, rub it over and keep aside for 10 minutes.
In a bowl, combine rest of the ingredients for topping the salmon.
Make sure to cut the carrot, zucchini and ginger as thin wedges.
Place the seasoned salmon over an aluminum foil or parchment paper.
Top each fillet with the veggie topping and pour little sauce over it.
Wrap the salmon with the aluminum foil.
Place on a baking sheet and bake for 20 minutes.
Serve immediately along with soup or roasted potatoes or even jasmine rice.