Garlic Butter Lobster - Broiled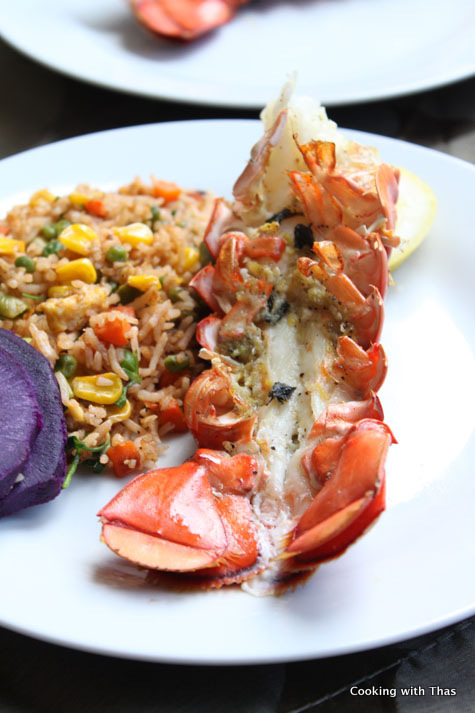 Lobster, 5-6 oz- 2 halved
Garlic, grated fresh- 1 clove
Lemon zest, grated- zest of 1 small lemon
Mint, minced- 3 to 4 leaves (optional)
Ground pepper- ¼ tsp
Salt- little
Butter, melted- 2-3 tbsp
I didn't have the nerve to buy the whole lobster, so I got the halved frozen lobster.
Rinse the lobster under running water.
Place the halved lobster with the shell side down on a cutting board.
If you look at it, you can see that the meat has a thick white covering with small thorns on it.
Using a kitchen scissor, cut the covering and remove it so that the meat forms the top layer.
In a small bowl, combine all the other ingredients.
Butter should be melted.
Dip a pastry brush in the butter garlic marinade, and brush it evenly on the lobster meat.
Let stand for a few minutes.
Place the marinated lobster on a baking pan lined with aluminum foil.
Turn the broil mode in the oven to low.
Keep the oven rack in the middle (don't keep the rack on top)
Place the pan on the rack and broil for 10-12 minutes. ( Broiling time depends upon the thickness of the tail, so keep an eye)
Don't over broil it as the lobster will burn.
Remove from the oven and serve warm.
I served the lobster along with quail egg fried rice and boiled purple sweet potatoes.
Broil the lobster in the shell so that it will remain moist
Recipe by
Cooking with Thas - Healthy Recipes, Instant pot, Videos by Thasneen
at https://www.thasneen.com/cooking/garlic-butter-lobster-broiled/