Pan Fried Whole Red Snapper with Coconut Sauce - Kerala Style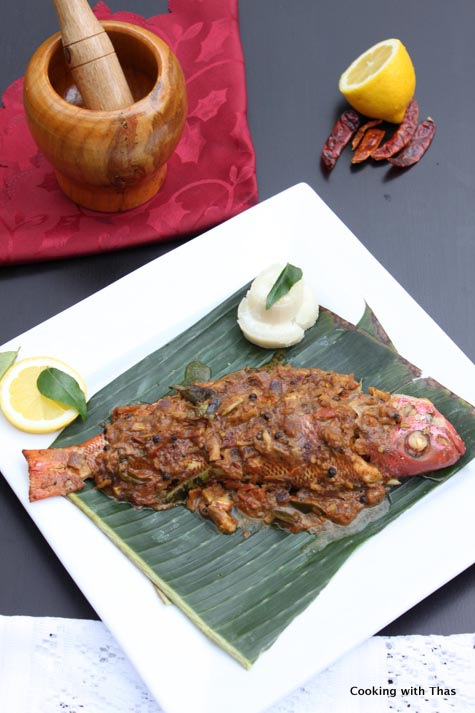 Whole red snapped, large- 1
Chili powder- 1 tsp
Turmeric powder- ⅛ tsp
Ground pepper- ⅛ tsp
Garam masala- ½ tsp
Salt- ¼ tsp
Lemon juice- 1 tbsp
Coconut oil- 4 to 5 tbsp
Curry leaves- 1 sprig
Coconut milk- ¾ cup
Ginger, chopped- 2 inch slice
Garlic, chopped- 3 cloves
Whole pepper corns- ½ tsp
Red chili flakes- ½ tsp
Cloves, whole- 3
Cardamom, whole- 3
Shallots, chopped small- 4, medium
Tomato, chopped small- 1, small
If using whole fish, remove all the internal organs, scarpe off the scales from the skin using a knife and trim the wings.
Don't remove the tail and the head.
Or ask the butcher to clean it for you.
Clean the whole red snapper under running water both inside and out, to remove any fishy smell spread little salt on it and rinse with water.
Using a sharp knife, put gashes or lines on the cleaned fish.
In a small bowl, combine the above mentioned ingredients to marinate the fish to a smooth paste.
Spread it over the fish inside and out, cover the fish with a plastic wrap and keep aside in the refrigerator for 30 minutes to 1 hour.
To coarsely grind the other ingredients, you could either grind it in a mortar and pestle or use a blender.
Heat a large non-stick pan over medium heat.
Add 2 tbsp coconut oil, add the ground mixture to the oil.
Saute for a couple of minutes.
Add curry leaves and salt to it.
Make sure the mixture doesn't turn brown.
Place the marinated fish over the ground mixture.
Drizzle the remaining coconut oil over the fish.
Cover the pan and cook the fish for a few minutes.
Flip the fish to the other side and cover the fish with the ground mixture.
If the ground mixture turns too dry add little water to the pan and cook the fish for some more time.
Let the outside of the fish starts to turn light golden in color.
Now, add the coconut milk over the fish and cook till the gravy turns very thick.
Keep flipping the fish to the other side.
Red snapper is a very soft fish, so while flipping be very gentle. You might have to use two spatulas to flip it so that it won't fall apart.
When the coconut gravy has thickened, cover the fish with the sauce.
Remove the pan from the heat and keep it covered for sometime.
While serving, you can serve on a plate lined with a banana leaf.
Using a spatula, gently slide the fish to the banana leaf and spread the sauce over the fish.
Serve with tapioca or rice.
Adjust the spice level according to your needs. Add more ground pepper or chili powder at the end if you need it to be spicy.
Recipe by
Cooking with Thas - Healthy Recipes, Instant pot, Videos by Thasneen
at https://www.thasneen.com/cooking/pan-fried-whole-red-snapper-with-coconut-sauce-kerala-style/