Nine Beans and Chicken Stew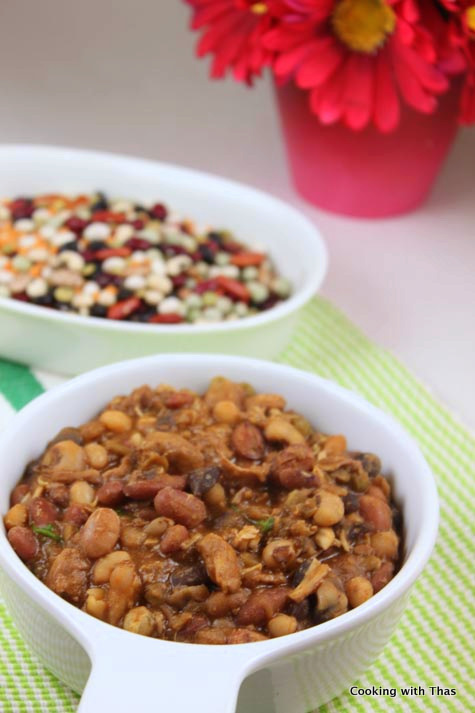 Nine beans soup mix- 3 cups (if you are cooking in a soup pot you have to soak the beans in water overnight)
Chicken breasts, diced small- 3 breasts
Olive oil- 1½ tbsp
Ground cumin- 1½ tsp
Paprika- 2 tsp
Ground pepper- 1 tsp
Water- 5 cups
Tomato sauce, low sodium- 1½ cups
Salt- to taste
Cilantro, chopped- ¼ cup
Green whole peas, green whole lentils, red split lentils, pinto beans, small white beans, small red beans, red kidney beans, black beans and black eye beans
Place a pressure cooker or a large soup pot over medium heat, add oil.
Add chicken to the oil and sprinkle ground cumin, paprika, ground pepper and lil salt.
Saute the chicken for a few minutes.
For cooking the beans in a pressure cooker you don't have to soak in water, if cooking in a large pot you have to soak it in water overnight.
Add beans to the chicken, combine well.
Add water and cover the cooker with its lid, place the whistle on it.
Cook on medium heat, if the cooker gives out whistle cook till 6 to 7 whistles or let it cook for 20 minutes.
Let the pressure subside completely, open the lid and check if the beans have cooked well.
If not close with the lid and cook till 2 to 3 whistles more.
Add tomato sauce to the cooked beans and chicken, combine well and cook for another 10 minutes.
Have a taste, add more salt and ground pepper if needed.
If the stew is too thick add some water to thin it down, don't make it to a soup constituency.
Garnish with cilantro, combine and remove from heat.
Serve warm with your favorite bread, naan, chapati or just have it like that.
You can add ground beef instead of chicken.
Wrap this stew in a tortilla, chapati or pita bread and roll it.
While making nachos use this stew.
Make it cheesy: If you want you could add cheddar cheese to the stew.
Skip the chicken and make it vegetarian.
Recipe by
Cooking with Thas - Healthy Recipes, Instant pot, Videos by Thasneen
at https://www.thasneen.com/cooking/nine-beans-and-chicken-stew/