Cream of Mushroom and Chicken Pasta - Quick Fix meal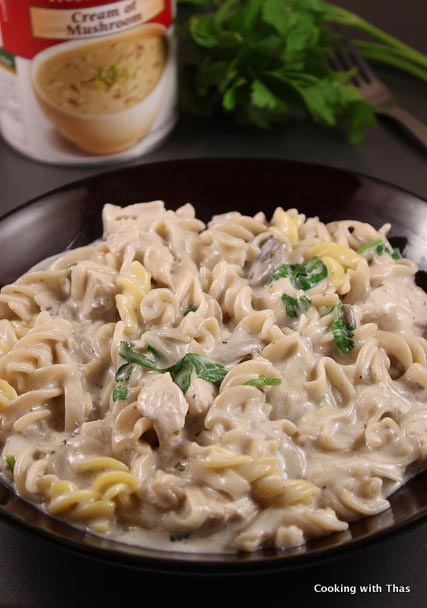 Chicken, boneless diced- 2 breasts
Oregano, dried- 1½ tsp (or use Italian seasoning)
Campbell's cream of mushroom soup- 1 can (400 mL)
Ground pepper- ½ tsp
Cooked Pasta, fusilli or penne
Parsley or cilantro chopped- ¼ cup
Salt- ¾ tsp
Use penne or fusilli pasta.
Cook pasta (300g) in boiling water seasoned with ¼ tsp salt till pasta turns soft. Do not over cook the pasta.
Drain the water and keep aside the cooked pasta.
Season the diced chicken with ½ tsp salt, ¼ tsp ground pepper, and dried oregano; cook covered in a large saucepan.
When the chicken has cooked well, add cream of mushroom soup. Let the soup come to a slight boil.
Add the cooked pasta, season with ¼ tsp ground black pepper; combine well and cook for 2 minutes.
Garnish with chopped cilantro or parsley.
Delicious dinner or lunch will be ready in less than 20 minutes, enjoy.
Leftover pasta can be refrigerated.
For vegetarian version: ignore chicken add green/red peppers.
Cream of mushroom soup can be replaced with Cream of chicken soup.
Recipe by
Cooking with Thas - Healthy Recipes, Instant pot, Videos by Thasneen
at https://www.thasneen.com/cooking/cream-of-mushroom-and-chicken-pasta-quick-fix-meal/