Cranberry Sauce with Caramelized Onions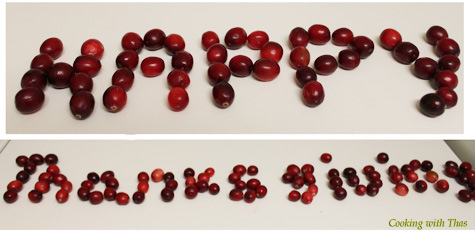 Fresh or thawed frozen cranberries, rinsed- 12 oz bag or 3½ cups
Large yellow onion, medium diced-1
Granulated sugar-1 cup
Ground cloves- ⅛ tsp
Salt- a pinch
Freshly ground black Pepper- ½ tsp
Water-1/2 cup
Vegetable oil- 1tbsp
In a saucepan, heat the oil over medium-heat.
Add the onions, cloves, a pinch of salt and pepper powder.
Reduce the heat to low, cover, and cook, stirring occasionally, until the onions are golden-brown and very soft, 20-25 minutes.
Remove the lid, increase the heat to medium high, and cook the onions, stirring often, until deep caramel brown, an additional 2-3 minutes.
Add the cranberries, sugar, a pinch of salt and ½ cup water and bring to simmer over medium-high heat.
Simmer for 1 minute, then cover, turn off heat, and let cool to room temperature.
You could half the ingredients and make this sauce, which will be good for 2 people.
The sauce may be prepared up to 3 days ahead and refrigerated. Return to room temperature before serving.
Recipe by
Cooking with Thas - Healthy Recipes, Instant pot, Videos by Thasneen
at https://www.thasneen.com/cooking/cranberry-sauce-with-caramalized-onions/